Shipping containers are the lifeblood of worldwide trade, enabling merchandise to travel safely and securely from Australia's leather goods to China's tennis shoes. In reality, an estimated 20 million cargo carriers traverse across oceans daily! Unfortunately, however, each year sees about 1,390 shipping containers irretrievably lost at sea—a figure that skyrocketed in 2019 as 16000 cargo holders vanished without a trace.
Regularly forgotten, the importance of locating container corner castings that abide by ISO specifications should not be understated. By being able to securely stack multiple containers together, these components help protect shipments from destruction or misplacement during transport.
In this article, we will explore corner castings and their significance in transporting products. Why are they so critical to the freight industry? Let's take a closer look!
Unveiling Corner Castings
Corner castings, or corner fittings, are essential components that connect to all four corners of a shipping container and form an interlocking system. With these parts in place, several containers can be safely stacked together with ease. Not only does this add strength and stability, but also makes it easier for transportation purposes which in return saves time and money!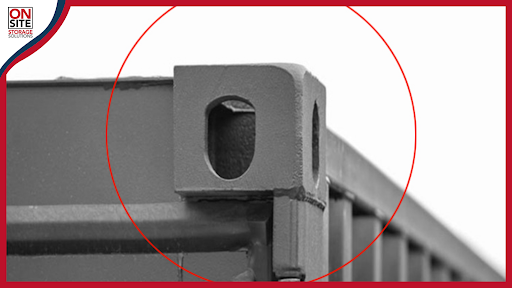 Shipping container corner castings are special parts that attach to the corners of a shipping container. These corner castings help ensure safety and stability when handling large amounts of cargo on multiple levels or structures.
Corner castings provide the crucial purpose of holding shipping containers together and keeping them secure. Not only do they lock two ISO 6346 shipping containers horizontally and vertically, but bridge clamps and twist locks also fasten them with ease. Additionally, corner castings allow for hassle-free transport of these units as they can be quickly picked up from one location to another.
They are normally crafted from steel, a robust and long-lasting material that can be shaped. By permitting containers to be stored in stacks, they make it handy to move more without any damage. When it comes to corner castings, manufacturers can craft the product into an ideal shape and weight for usage. There are a variety of different types of corner castings available so you must make sure that the size fits your container correctly.
Commonly Used Corner Castings for Containers
An ISO shipping container commonly uses eight corner castings, which are required in pairs on the top right and left corners, as well as the bottom right and left. To make sure the containers fit properly, use two of each types of casting for each corner. It's essential to understand that all shipping container corner castings are unique. The top fitting features an acorn-shaped side hole, while the lower one has a semi-circle in its stead.
For the right and left corner castings, both the top and bottom are reflections of one another. In all other facets though, they maintain identical.
If you don't know which corner casting you have, look in the hole. The top left one will say TL. The top right one will say TR. The bottom left one will say BL. And the bottom right one will say BR.
The maximum width for the corner fitting top aperture must not be greater than 66 millimeters, and its length should remain bounded by 127 millimeters. Moreover, a minimum thickness of 23 millimeters is required for the top plate.
It is very important to measure all three sides: length, width, and thickness. If any of these measurements are different than expected, you need to check the corner casting. In this situation, the container must be removed from use immediately.
Crafting a corner casting requires the right mold and material to form it. When it comes to shipping containers, various metals can be employed in their creation. For your convenience, listed below are some great metal options for making effective corner castings.
Gray Iron proves to be an ideal casting material option given its ability to be machined with ease, formulated according to ISO 1161 standards, economical throughout the production process at scale, and tested for quality assurance.
Ductile iron is a type of iron that is like gray iron. It is stronger, can handle more, it does not break easily, it weighs less, and it takes up less space.
Aluminum is useful for many things. It is strong and can handle hot temperatures. It also passes heat and electricity easily, and it won't get rusty or break down.
Steel is an exceptional casting material due to its capacity for withstanding heavy loads, wear, and shock. Furthermore, the corrosion-resistant properties of steel make it ideal for aquatic environments like shipping containers that traverse by sea. It's remarkable engineering even allows it to be used in extremely cold temperatures down to -40°C.
Although steel is the strongest and most secure material, you must take into account its cost when ordering these shipping container corner castings in bulk.
With a broad range of prices, container corner castings could be anywhere from $40 to $60 depending on the size and shape. The type of metal used will also affect how much you pay for your casting. Nevertheless, they might opt for a less durable material like aluminum instead. For higher-quality materials and ISO 1161-compliant castings – you can expect to pay between $160 and $200 per corner casting.
Are you wondering if your shipping container meets the ISO standard specifications?
Shipping containers and corner castings should be ISO standard. This means they are safe to use for freight. The ratings of the container and corner castings will tell you if it is up to ISO standards. Look for markings on the container to make sure it meets these standards.
For efficient and safe shipping, all ISO standard containers will display a four-digit code printed in the upper right corner of the door. Additionally, you can check beneath the container number for another confirmation of this code. To verify if the shipping container is ISO standard or not when its outer layer has been painted over and the labeling isn't visible, simply inspect the corner castings.
All ISO standard corner castings should have an unmistakable design. The top corners display a stadium-shaped hole on the long side, with a shield opening situated in the front or back.
At the same time, bottom corner castings include two comparable stadium shapes cut into opposite sides of the container. Additionally, take note of the thickness of the steel corner casting. If it is less than 18 millimeters thick, it means that the corner casting and shipping container do not meet ISO standards.
Doing a proper inspection of each container corner casting and choosing the right ones can ensure the safe transportation of the cargo. Shipping container corner castings play a critical role in handling and lifting containers. Follow the guidelines mentioned to minimize the risk of damage or loss of cargo and ensure the safety of the products.
On-Site Storage Solutions
Securing ISO-compliant, high-quality shipping containers is easy with On-Site Storage Solutions! We guarantee that all our used or new containers fully meet the necessary standards. With us, you can be confident that your goods are safely protected during transit and storage. Give us a call at (888) 405-8772 and our team will be happy to assist you.