Investing in a swimming pool is a big deal. You want to weigh all of your options carefully so you can be sure to  make the right decision, because in most cases, you can't return it if you don't like it!  Most people opt for the traditional built in swimming pool which can be expensive and requires the services of a contractor. Contractors charge a hefty fee for their service and even a basic pool can run you upwards of $50K. Above ground plastic or blow-up pools are an alternative option to the budget conscious pool seekers because they are cheaper, non-permanent fixtures that don't require an expensive contractor. The bulky look however, can be considered a bit of an eyesore to some homeowners. Recently, some savvy homeowners are getting creative and modifying shipping containers into sleek and modern swimming pools. They can be customized to fit into any landscape design and modified with amazing features that even the traditional pools can't provide.
Shipping Container Pools can be built-in but are usually above ground
Although shipping containers can technically be lowered into the ground they are usually kept above ground. Shipping containers can be lowered into the ground to create the look of a built in pool. The container acts as the base of the pool and eliminates the need for expensive rebar and concrete, however because the container is made of steel, the ground moisture will cause rust and corrosion and can create holes in the container over time. Shipping container pools typically sit above ground or even placed high on a platform or stilts.
Shipping container pools are ideal if you have a small backyard, are in an awkward location, have unusual topography, or want to buy a nearly finished product. Some people may see shipping containers as an odd choice for a swimming pool, but the custom features and contemporary touches help to cement their position as one of the most popular choices for modern pools.
Shipping Container Pools can save you money
If you are considering investing in a built-in pool you can expect to pay half or maybe less if you build a shipping container pool. The money you save on the pool will allow you to invest in custom decking or extra pool features like a cool peep window that will give your pool an aquarium look,  or a custom paint job to match your landscaping, or jets that can create resistance in a lap pool. There are companies that sell prefab ready to use container pools that can be dropped in your backyard that start at around 30K, depending on the features. However, if you're willing to build it yourself, a DIY container pool will save you the most money. There are hundreds of DIY container pool videos online where you can get ideas and helpful tips on how to design and construct your own container pool. Every container pool starts with a container and you will need a reputable and experienced container company that will ensure you get a suitable container for your container pool. For container information call us at (888) 405-8772 or email us at info@onsitestorage.com.
What Are the Benefits of Converting Steel Shipping Containers into a Pool?
There are several advantages to converting your swimming pool from a regular container:
Takes up less room than a traditional built in pool.

Sturdier and more aesthetically pleasing than an above ground plastic pool.

Customizable – Your container pool can be modified any way you want.

Mobile – Unlike a built-in pool, a container pool can be transported to any location and move with you.

Available in 20', 40' and 45' length

Made from recyclable materials. 

Durable – Easy to maintain and lasts long.

Cost effective – You'll pay much less for a prefab or DIY container pool than you will for even the simplest builtin pool.

Pool covers and pool liners, as well as fiberglass inserts and pool liners, can all be purchased or fabricated to match your specific needs. 

Accessories including plumbing, heating, and electrical systems can be added to suit your needs.
The bottom line is that a container pool will give you all the benefits of a built-in and save you tons of money. With a steel container, you have free reign over the design of your pool. You can make a one-of-a-kind pool to match the constraints and measurements of your home and you can take it with you if you move.
Here's how to get started.
 Planning for the pool
You'll have to make a number of decisions before you start building your container pool. You'll also need to collaborate with various municipal agencies to ensure that your pool satisfies local codes.
 Here are some steps to follow:
Contact your city building department

– Your city's local planning commission may have regulations that you must follow. Make sure you understand your cities requirements and restrictions for building container pools. Skipping this step may cause you problems and cost you money and undue stress.



Conduct research to decide the type of pool you want

– The internet is full of DIY container pool videos and design ideas. Before you start actually building your pool, decide on what features you want. This step will help you set a realistic budget for your project.



Contact structural engineers and plumbers

– Depending on your expertise, you may want to acquire the services of professionals especially when it comes to plumbing and electrical. Your plan should be well designed and planned out and it's wise to have a structural engineer review your design and plans to prevent potential structural problems that may turn out to be costly.
Choose the right container

– Purchasing your shipping container will most likely be one of the biggest costs when building a container pool. It's important that you choose a reputable and experienced container company that will ensure you get the best container for your project. For information on purchasing the right container for a shipping container pool contact On-Site Storage Solutions at (888) 405-8772 or email us at

info@onsitestorage.com

.

Contact a welder to waterproof your container

– A shipping container is not water tight when filled with water. You will need the services of an experienced welder to make your container suitable for using as a swimming pool.

Determine the pump and filtration system for your pool

– Your shipping container pool will be fully operational. Your pool will require a pump and filtering system.
 

This is a project that you can take on yourself or consider bringing in a licensed contractor

. Give yourself enough time to create the pool of your dreams. A good next step to take is to explore some options.
Get Creative with your Design
The charm of a steel shipping container pool cannot be overstated. Event planners have been using shipping containers to construct exhibits, host festivals, and build amazing structures for years. Imagine having this flexibility and capacity in your own backyard.
When it comes to pool construction, you have a lot of choices. You can build your pool on the ground or in a wooden enclosure, for example. You can also combine several shipping containers to make a larger pool or a pool/hot tub design. The options are limitless!
Here are some sources for inspiration:
YouTube

– Take a look at other people's projects to get an idea of what you can do.

Pinterest

– Create divisions for distinct thoughts.

Instagram

–  Look for hashtags like #containerpools, #shippingcontainerpools, #buildyourowncontainerpool for example.

Architecture Blogs – this can be a great source for professional designs.
Plenty of people are building pools from shipping containers. Inspiration is everywhere, so don't feel like you need to start from scratch.
Here are some examples:
1. Container Swimming Pool With a Deck and Peep Window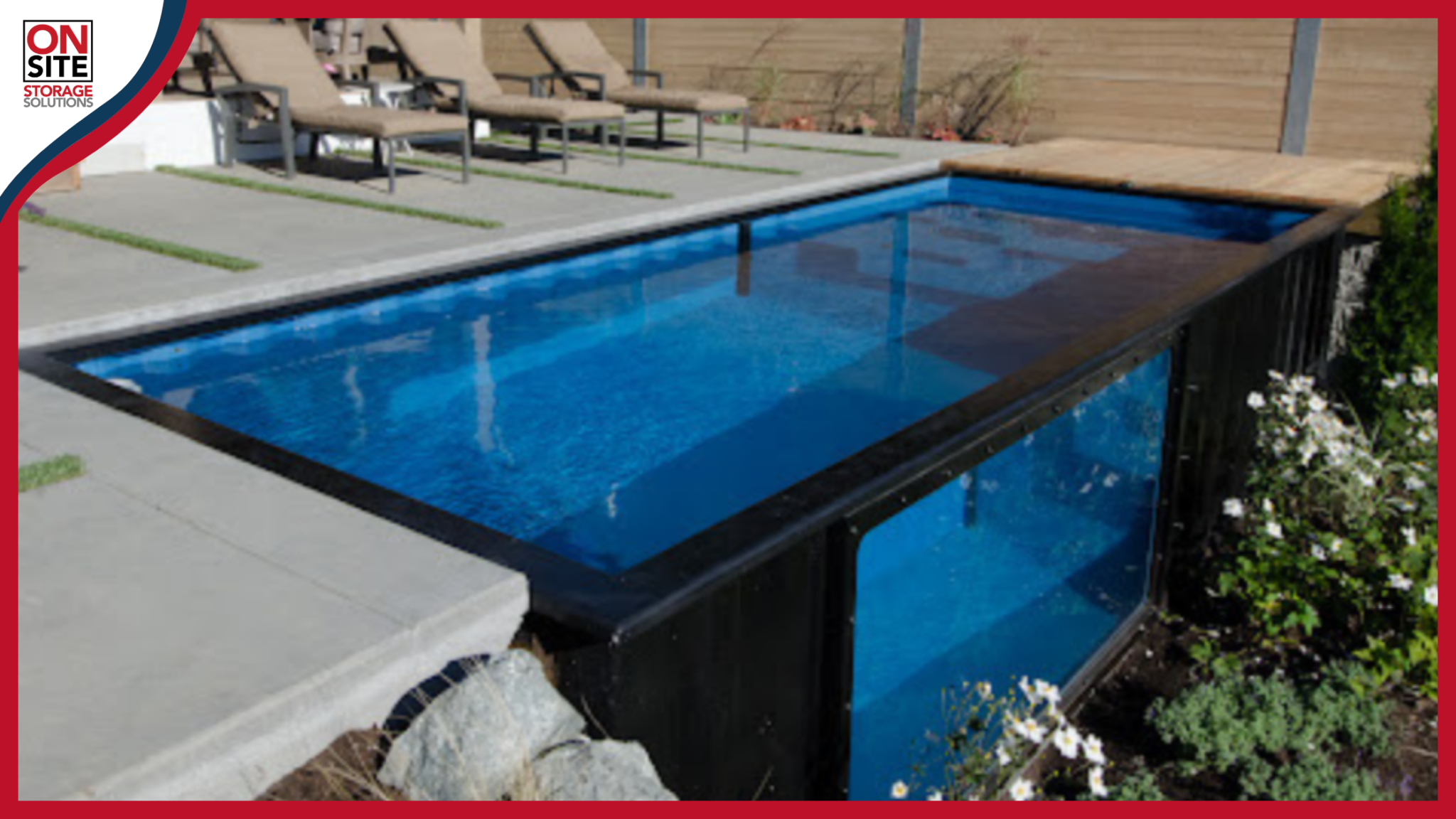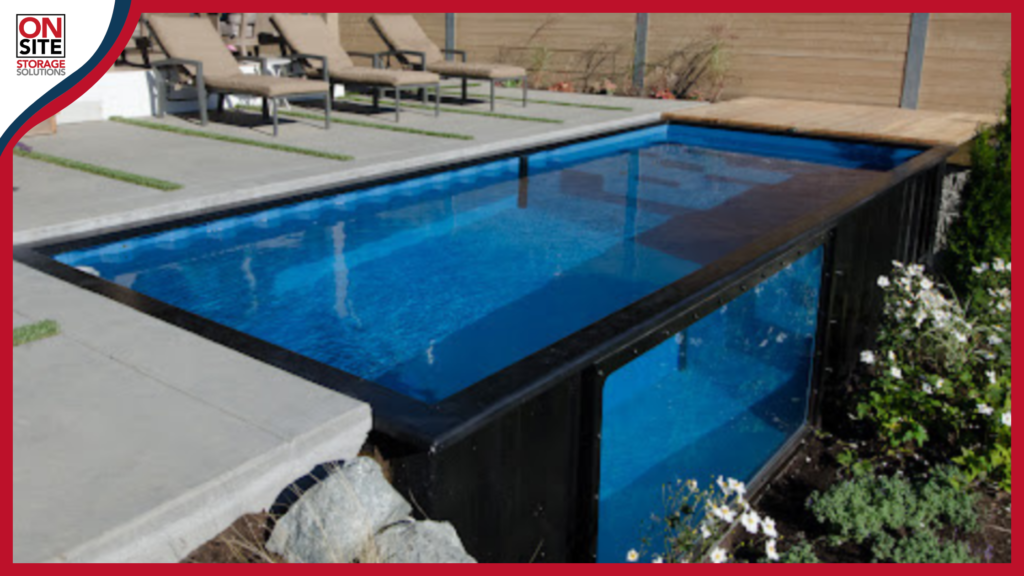 2. Cantilevered swimming pool on a raised platform and custom deck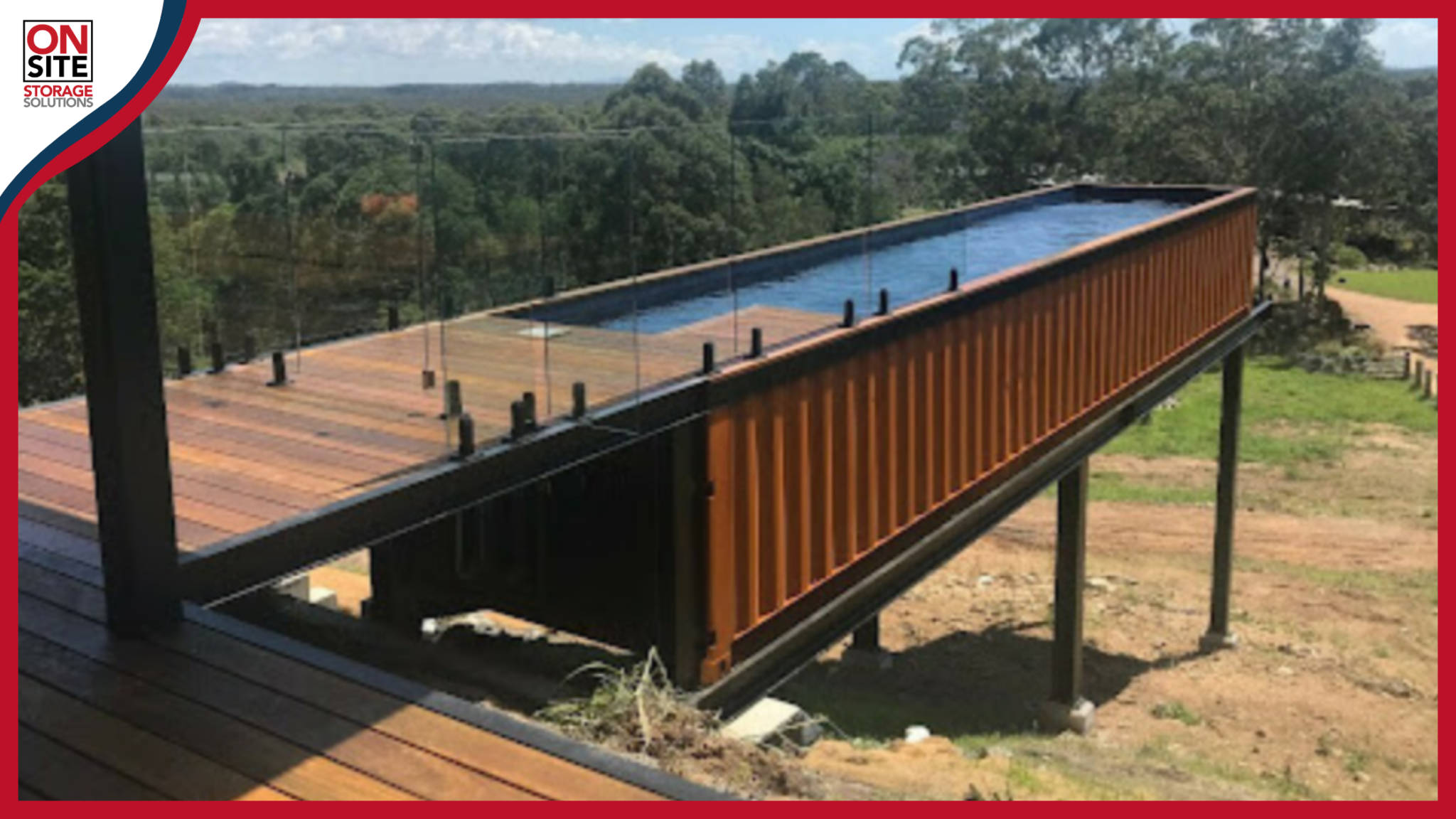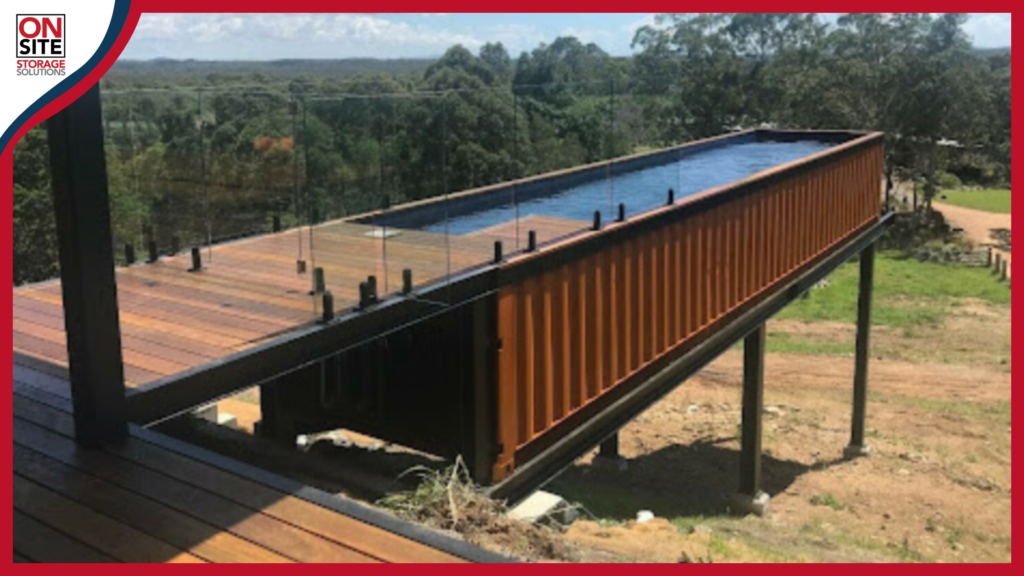 3. Customized decking and pool linings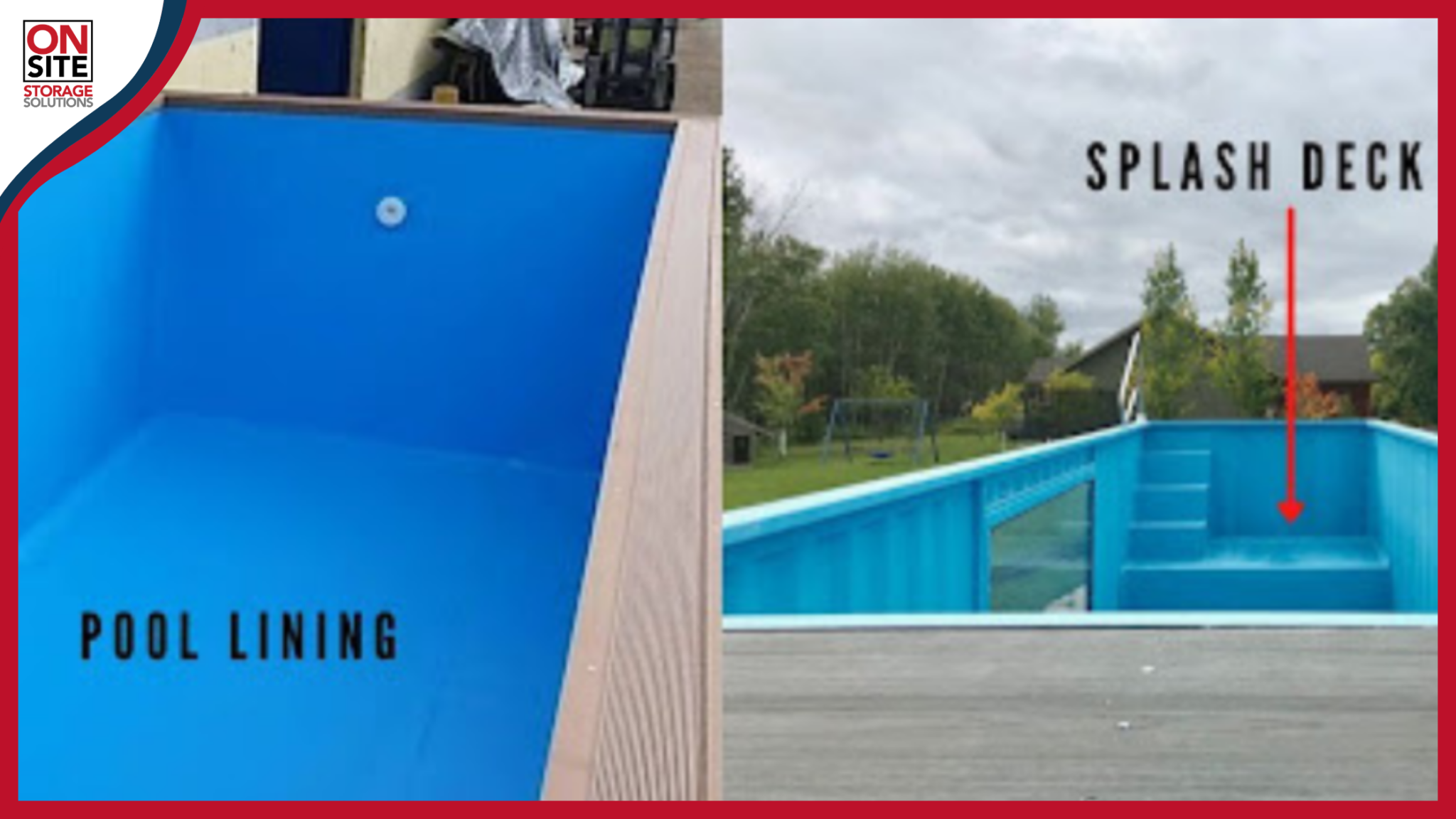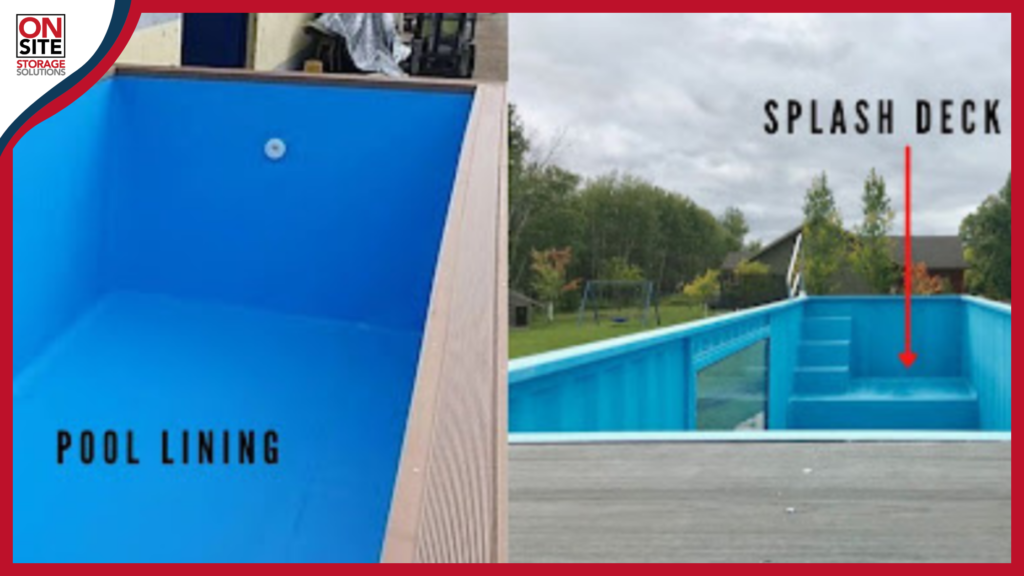 So, where do you go from here?
Don't put it off any longer. On-Site Storage Solutions can assist you in getting your project started. We specialize in providing storage and shipping containers for a variety of sectors. Container sizes range from 10 to 40 feet long, and there is a size to fit nearly every purpose. Many individuals are constructing pools from shipping containers. There's so much inspiration out there that you don't have to start from scratch. Feel free to browse through our comprehensive catalog of shipping containers. We are sure you will find one that fits your needs! You can also reach out to our team for more ideas and inspiration.