With so many other names for shipping containers – cargo container, sea can, and storage container – it's easy to become confused about what terminology to use. There is also a variety of types of containers that complicate matters further across multiple industries and countries. Ever wonder why shipping containers have the name that they do? This article seeks to answer that question by exploring the history behind each type of container.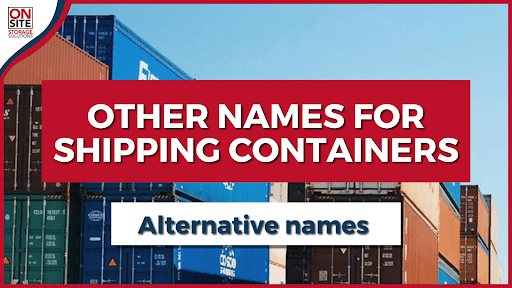 Alternative names of Shipping Container
Cargo Container

Intermodal Container

ISO Container

Sea Container or Ocean Container

Sea Can or C-Can

Container Van or Dry Van

Moving Container

Freight Container

Shipping Container

Shipping Crate

Storage Container

Steel Container
Conclusion
Alternative names of Shipping Container
A shipping container goes by many names, including a cargo container, sea can, and storage container. However, the most common name for a shipping container is simply "container". A container is defined as "a large standardized shipping box"1. This broad definition encompasses a variety of different types of containers used for different purposes across multiple industries.
The following are different names for shipping containers.
The term "cargo container" is derived from the ability of these units to store, protect, and transport a variety of goods and freight across the world. This is one of the most popular shipping container names in use throughout the United States, Canada, and the United Kingdom.
Intermodal transportation uses two or more modes of transport to move goods from one place to another. The maritime sector has greatly benefited from the intermodal shipping container, as it allows for easy cargo movement between different types of transportation networks, such as road, rail and water. Intermodal containers provide an efficient way to ship cargo as repackaging and offloading of the cargo is avoided.
ISO containers are shipping containers that meet specific standards to become International Organization for Standardization (ISO) certified. Most ISO-certified containers can be used by most shipping companies and can also be passed from company to company with minimal issues.
4. Sea Container or Ocean Container
A sea cargo container is a maritime container that transports cargo via land, rail, or sea. This container is unique because it's been constructed to hold more weight and allow for use during transport via land, rail, or sea. Even though containerization has been around for a while, it is still relatively new when compared to other modes of transportation.
Sea cans and c-cans are shipping containers that are primarily utilized by ocean-bound cargo container suppliers. However, when talking about the standard metal containers that are frequently used in a fleet, such as "sea can," or "c-can," they are considerably shorter and more user-friendly.
6. Container Van or Dry Van
A dry van is a type of semi-trailer with four walls and a roof to keep shipments safe from harsh weather or Break bulk cargo. Dry vans are created to transport consolidated, boxed or packaged freight that doesn't require temperature control (unlike refrigerated "reefer" units). It also cannot haul oversized shipments (unlike flatbed trailers).
The terminology for shipping containers in the moving and storage industries is always changing. Many businesses and individuals who are in need of flexible storage options rent portable storage containers. Mobile storage containers, also known as portable storage containers, are just another name for these.
A shipping container is a strong, weather-resistant piece of equipment used to move cargo by land, air, or sea.  A freight container can be used for a variety of commodities, including dry goods, perishable items, and liquids.
If you want a well-known name, go with shipping container. As the name suggests, it simply refers to the most widespread usage of these large metal containers. They are ideal for storage, shipping, transportation, and modifications. Proof can be used for many innovative projects, such as creating an eco-friendly home, an alternative to the traditional swimming pool, and much more! 
10. Large Metal Container
This is one of the more descriptive names for shipping containers, as it simply refers to their large size and metal composition. These units are often used for a variety of purposes, such as storage, shipping, and transportation.
This is one of the most popular names for shipping containers, as they are frequently used for storage purposes. Storage containers come in a variety of sizes and can be used to store everything from excess inventory to seasonal decorations. Depending on the number of belongings you have, you can choose between different sizes of storage containers. The size choices are 20 ft containers, 40 ft containers, High-cube containers, or reefer containers!
With so many different names for shipping containers, it can be hard to keep track of what each one means. Hopefully, this article has cleared up any confusion and given you a better understanding of the history behind cargo containers, sea cans, and storage containers. If you have any questions about shipping containers or need help with finding the right container for your needs, feel free to contact us at (888) 405-8772 or send us a quotation form.