There are a variety of causes why a school might not have the physical space it requires to accommodate its student body. Cuts in funding, natural disasters that inflict damage beyond repair, and the closing of schools in neighboring towns are only a few examples.
When these events occur, educational leaders are compelled to reorder the resources they have and discover innovative methods to satisfy their students' demands.
When educational institutions need additional square footage, they can convert shipping containers into modular classroom buildings. These structures are an innovative, low-cost, and portable convenient solution for schools to expand when they most need it.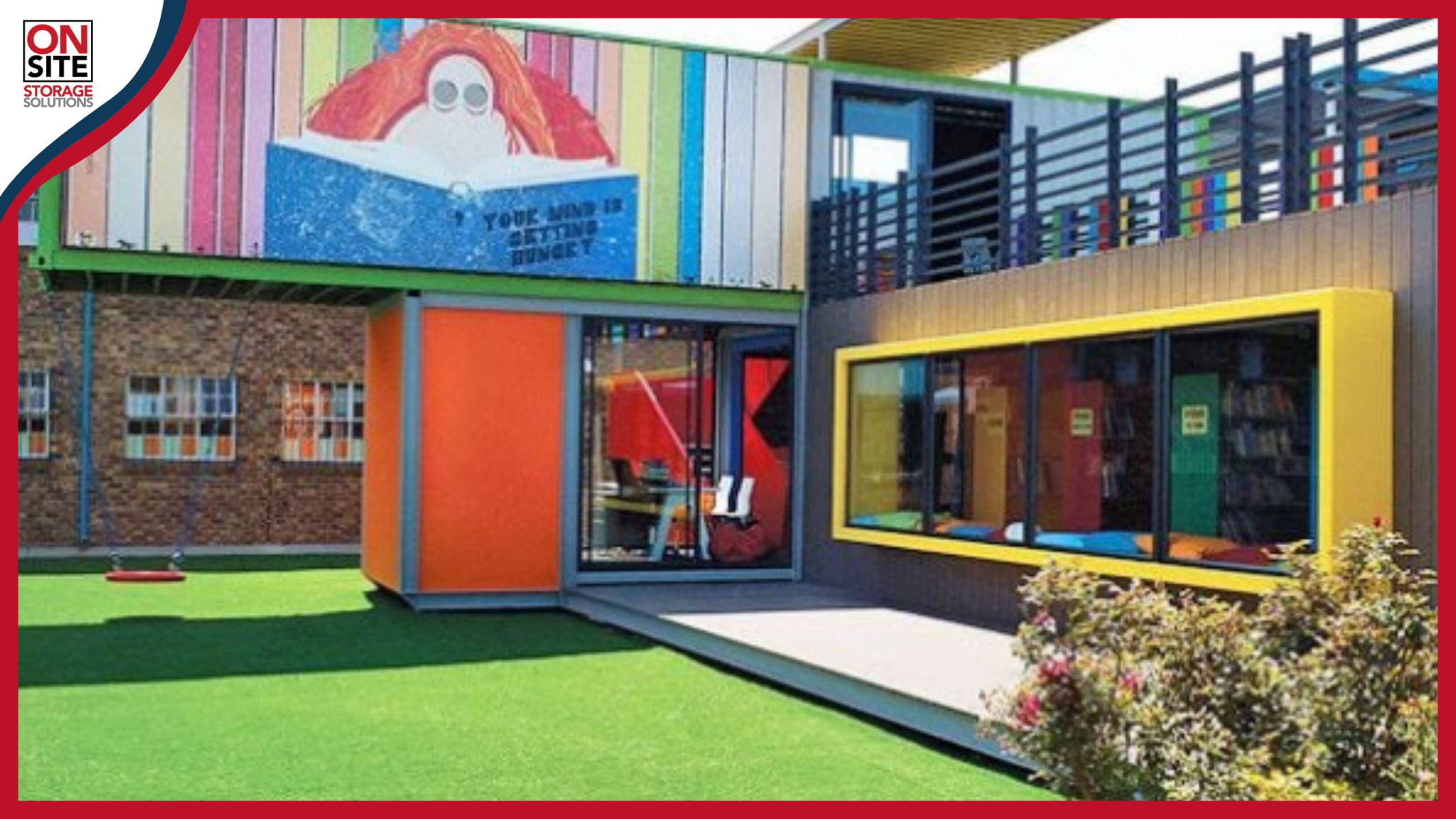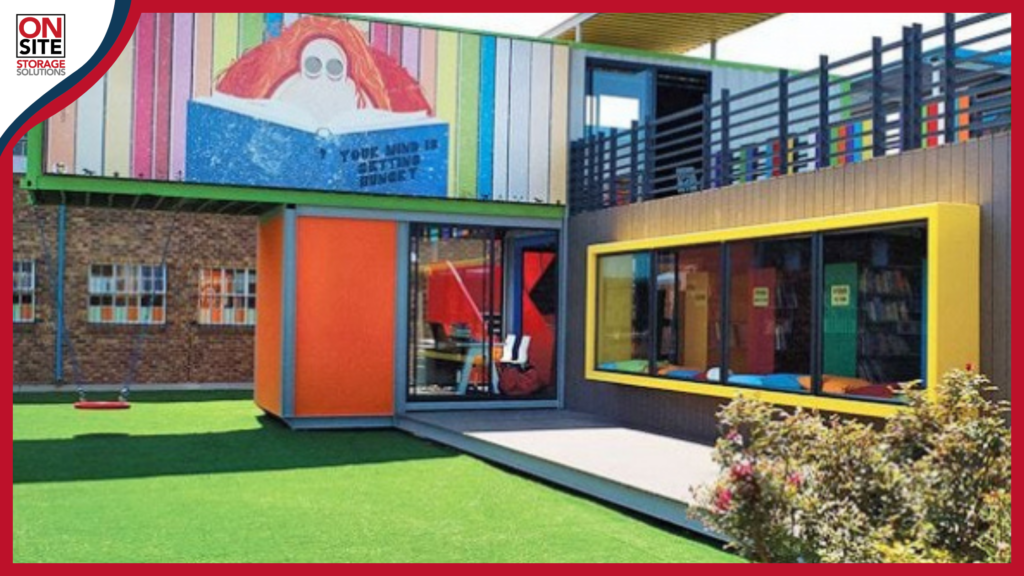 We are delighted to provide a variety of classroom containers that are created specifically for use in schools and help them expand their facilities while also bridging the gap until a more permanent solution becomes available at On-Site Storage Solutions.
How do container schools get constructed?
When compared to other building processes, the shipping container building procedure is quite simple. Of course, the complexity of your project will be determined by how customized you want your framework to be, how big it is, and whether or not you're combining an existing structure with a new one.
The following are the typical phases of putting up a container school:
Planning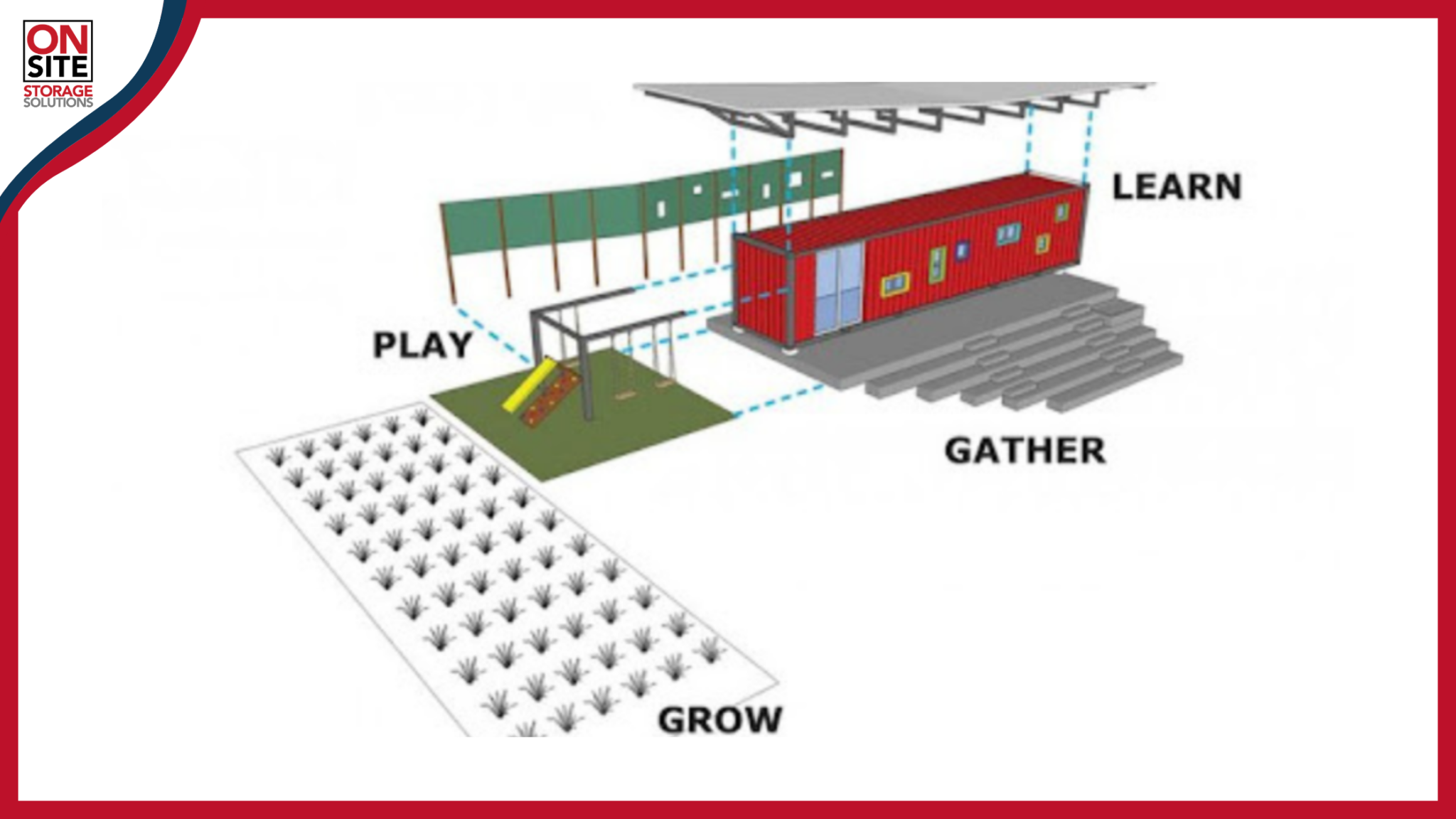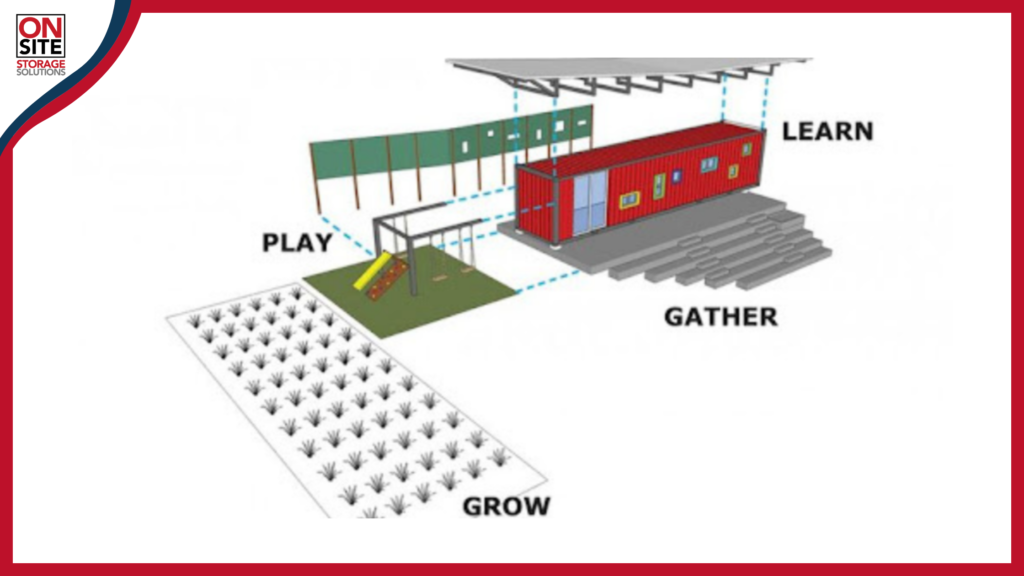 During this stage, the educational institution will determine the objectives of their container project and finalize an architectural plan for the construction. This is when factors like budget, the scope of the project, and the location of the development are all confirmed.
Foundation Placing
It is a widespread misunderstanding that shipping containers may be delivered to a location without the need for an underpinning. When shipping container schools are erected, it's reasonable to anticipate they'll be in use for at least a few months, if not years, and any long-term structure that will be occupied on a regular basis necessitates a foundation able to support the weight of the construction.
If a weak foundation is not laid, a shipping container school may collapse. If there isn't enough underpinning, it may cause uneven floors and possibly sink into the ground below it.
Container Purchase
You will need to locate and purchase the best available containers in order to ensure that the shipping container classroom meets the requirements laid down in the planning phase. The price per container, existing features (insulation, shelving, built-in lighting, etc.), weather resistance, and security are all factors to consider when making this choice.
Customization
It's time to install the shipping containers and weld them together after a firm, dependable foundation has been built for the container school. This is when the school container is completely transformed into a highly-functional and efficient learning area, from adding windows to fiberglass paneling or extra shelves.
The electrical and plumbing systems must be put in place, as well as last-minute aesthetic elements like furniture and paint, once the shipping container school has been designed according to your needs. These are the final steps of any shipping container project. Students may start using their new shipping container classrooms once they're completed.
What are the advantages of container schools?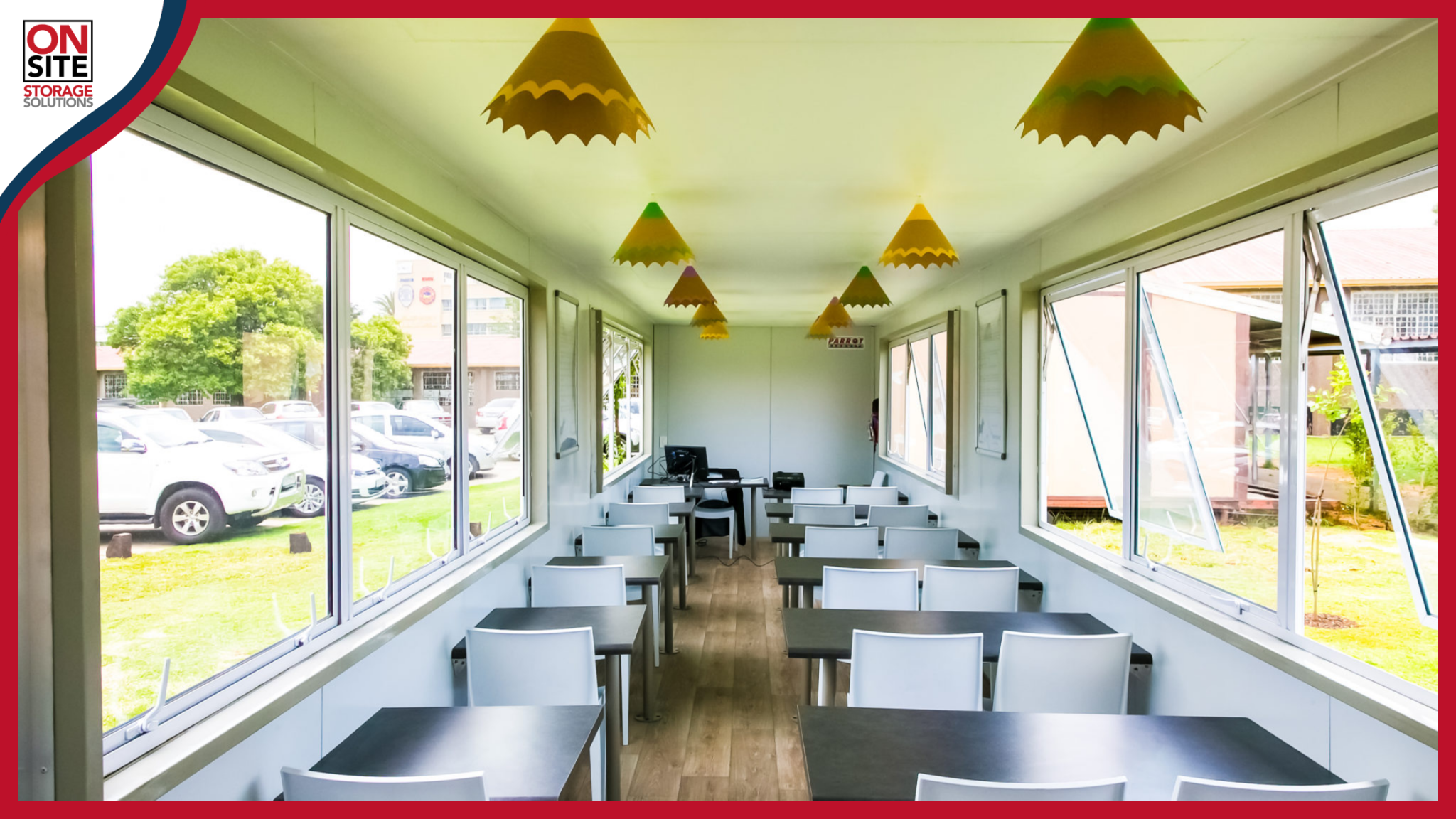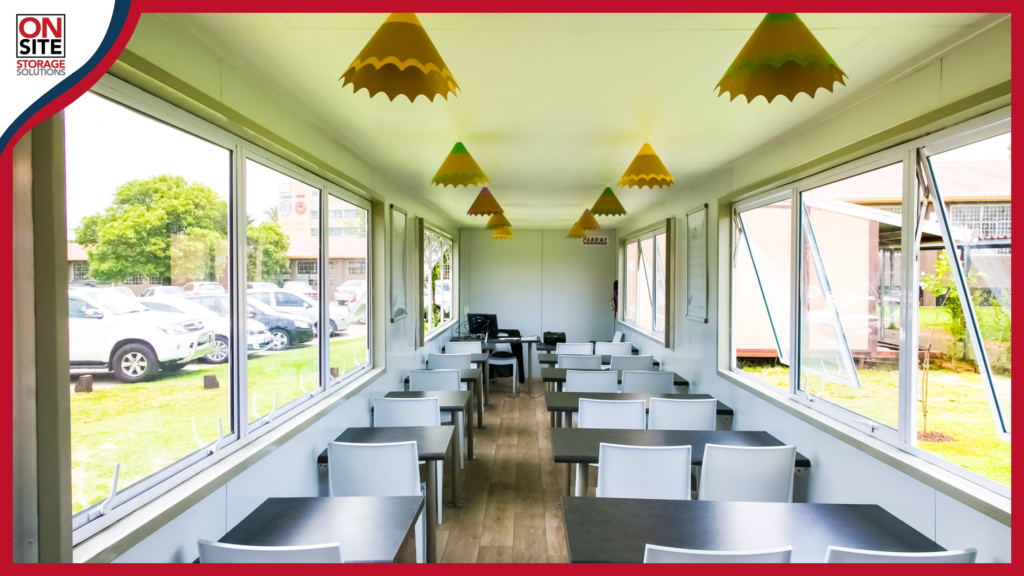 There are a variety of advantages with utilizing container structures. The following are some of the most significant benefits associated with container schools:
Flexibility
One of the greatest perks of building a shipping container school is that the containers themselves can be customized ahead of time in a warehouse or indoor facility. This is especially convenient for engineers and construction workers, as it eliminates the need to set up electrical power at the building site itself, and allows them to cut back on the cost of shipping resources and other equipment.
Affordability
This is without a doubt one of the most important reasons for educational institutions to choose storage container building.
Typically, shipping container structures will cost less than half the price per square foot of traditional construction.
Here's an example:
It will cost approximately $150,000 to construct a shipping container classroom with the same area as a 2,000-square-foot traditional classroom.
Keep in mind that the final price will be determined by the number of modifications required, the type of containers chosen, and whether or not any snags develop during the construction process.
Construction Speed
Shipping container structures are very time efficient when compared to other types of construction. Because many shipping container units are prefabricated, they can be delivered rapidly (as long as no modifications are necessary).
Do you need a bespoke shipping container? Don't worry. Even a completely customized box might take only 4-10 weeks to complete.
In comparison to conventional building schedules, which average out at around 4-6 months for a 2,000 square foot area, custom shipping containers are still the faster option.
How Can We Assist You?
We are pleased to have established a reputation for providing, recycling, and renting high-quality shipping containers at the lowest price. We can assist you at every step of your project if you want to construct a school out of a shipping container.
We can guarantee that the construction of your container school is a pleasant and trouble-free experience from start to finish. Give us a call at (888) 405-8772 or fill out our contact form to receive a price for your project now!