Are you thinking about making a long-distance move in the near future? If that's the case, you're probably looking for creative ways to save money on the move. You've undoubtedly noticed that budgeting is time-consuming and overwhelming. Is it best to hire movers or rent a truck and dispose of what you can't carry—it's a lot to think about.
Depending on where you reside, you may confront additional difficulties. Let's assume you're a resident of California who is relocating to another state. You are not alone in this situation, as living in California is costly.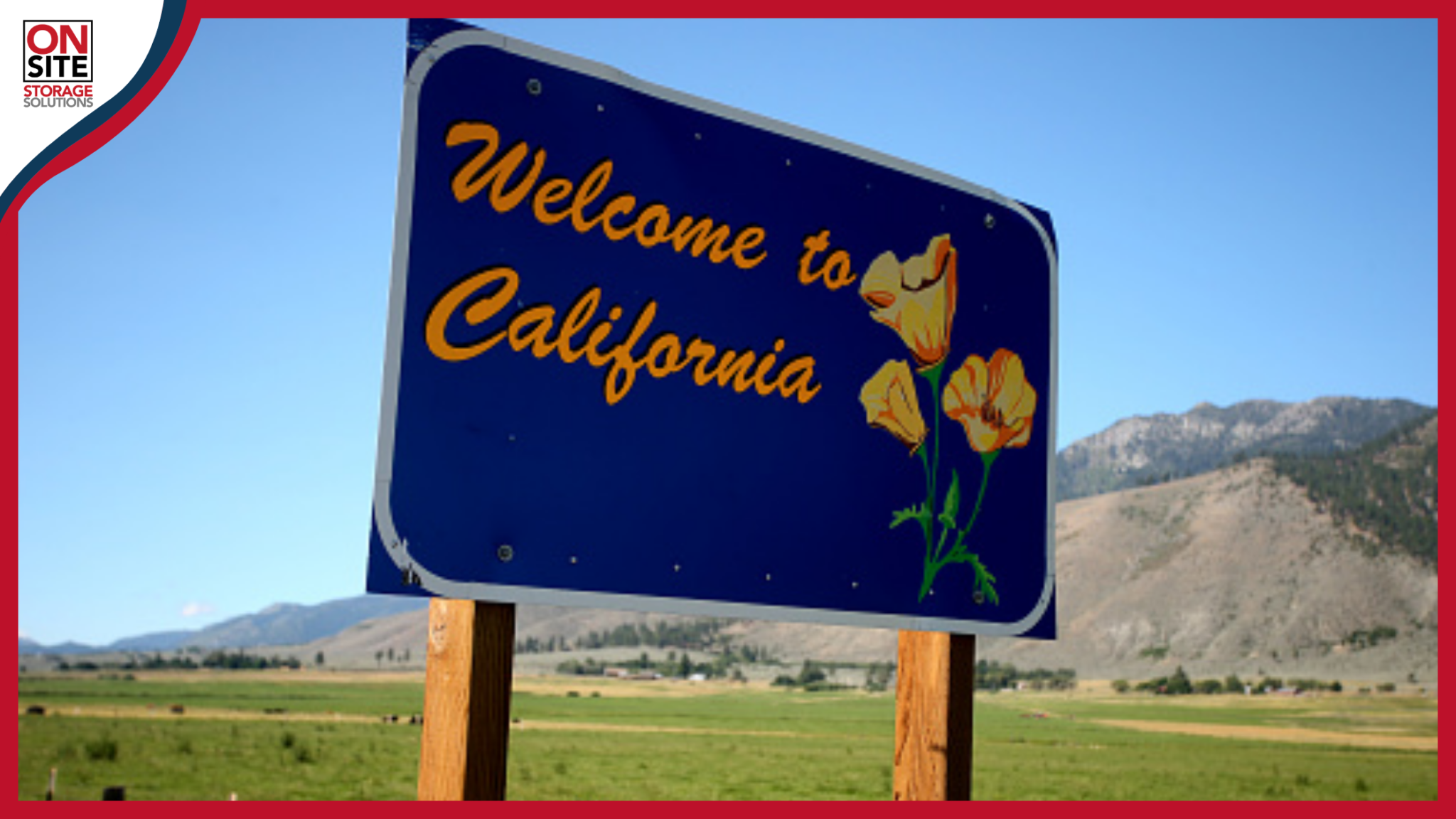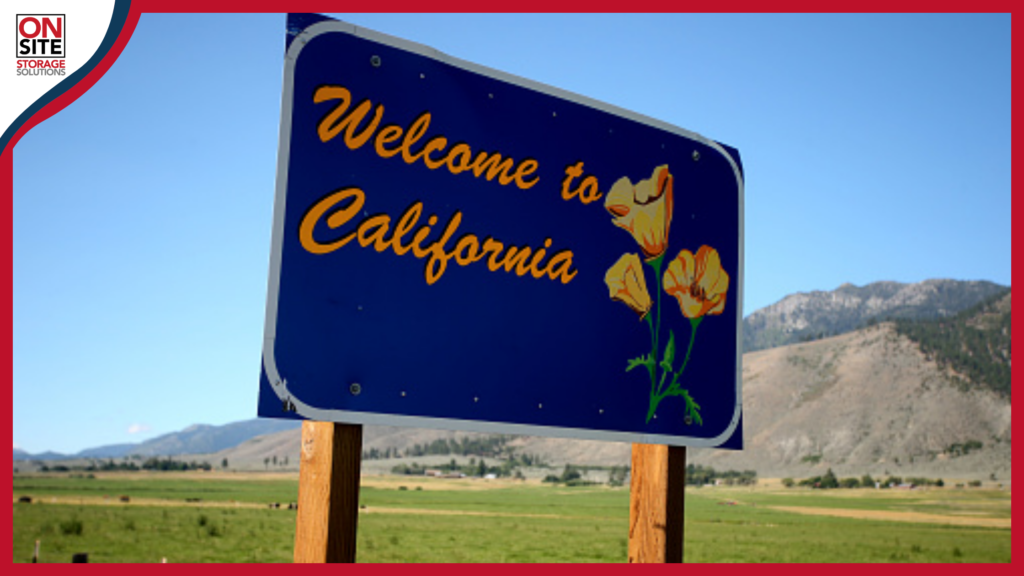 According to recently conducted research, more individuals are leaving the state than moving in. Because so many people are relocating, purchasing moving supplies is becoming increasingly difficult. Moving truck rental prices have risen dramatically in recent years. In California, it's almost four times more expensive to hire a moving van than it is in other areas of the country.
The costs of these services can be significant. You may wind up delaying  or overpaying for your long-distance move. You may even need to sell your belongings just to fund the move. There's no escaping the fact that you're dealing with an inconvenience in any case.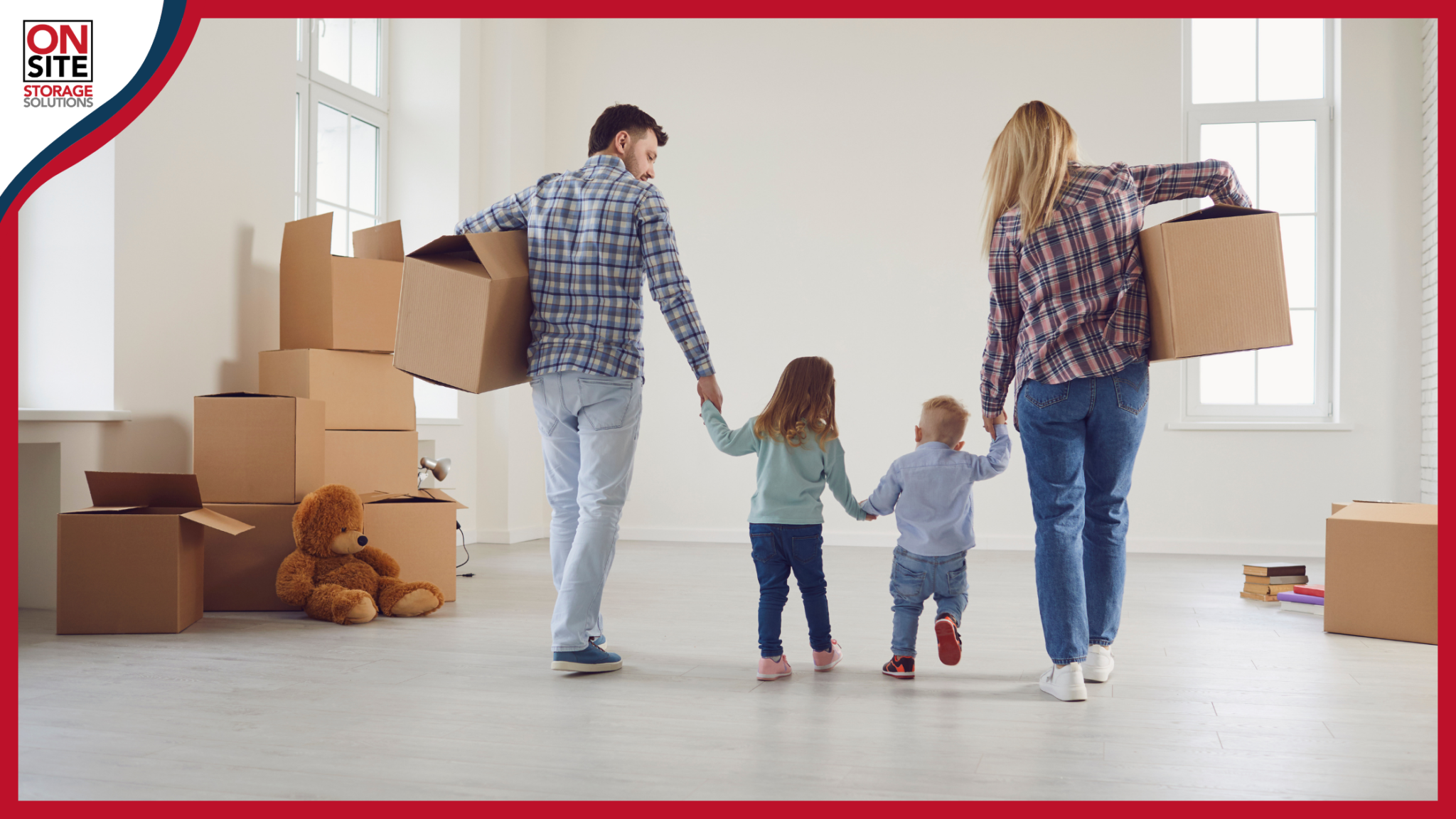 Are you considering purchasing a storage container to move your belongings to another state rather than using a traditional moving company?
Long-distance moving is never easy or cheap. You may be considering purchasing a storage container to move your belongings across states so that in the end you'll end up with your very own storage container to be used as additional space in your new home. This may be the right solution for you, but there are a few things to consider before solidifying your decision.
Pros for purchasing a storage container to move your belongs to another state:
Storage containers may make long-distance relocation easier in a variety of ways:
No time constraints – If you purchase a container to move your belongings, you won't be bound to the time constraints of a moving company. You can purchase the container to be delivered to your current home well in advance of your move and load it at your leisure. Then, when you're ready to make the move you can schedule to have it picked up and moved to your new home. You can also unload your belongings at the other end at your own pace.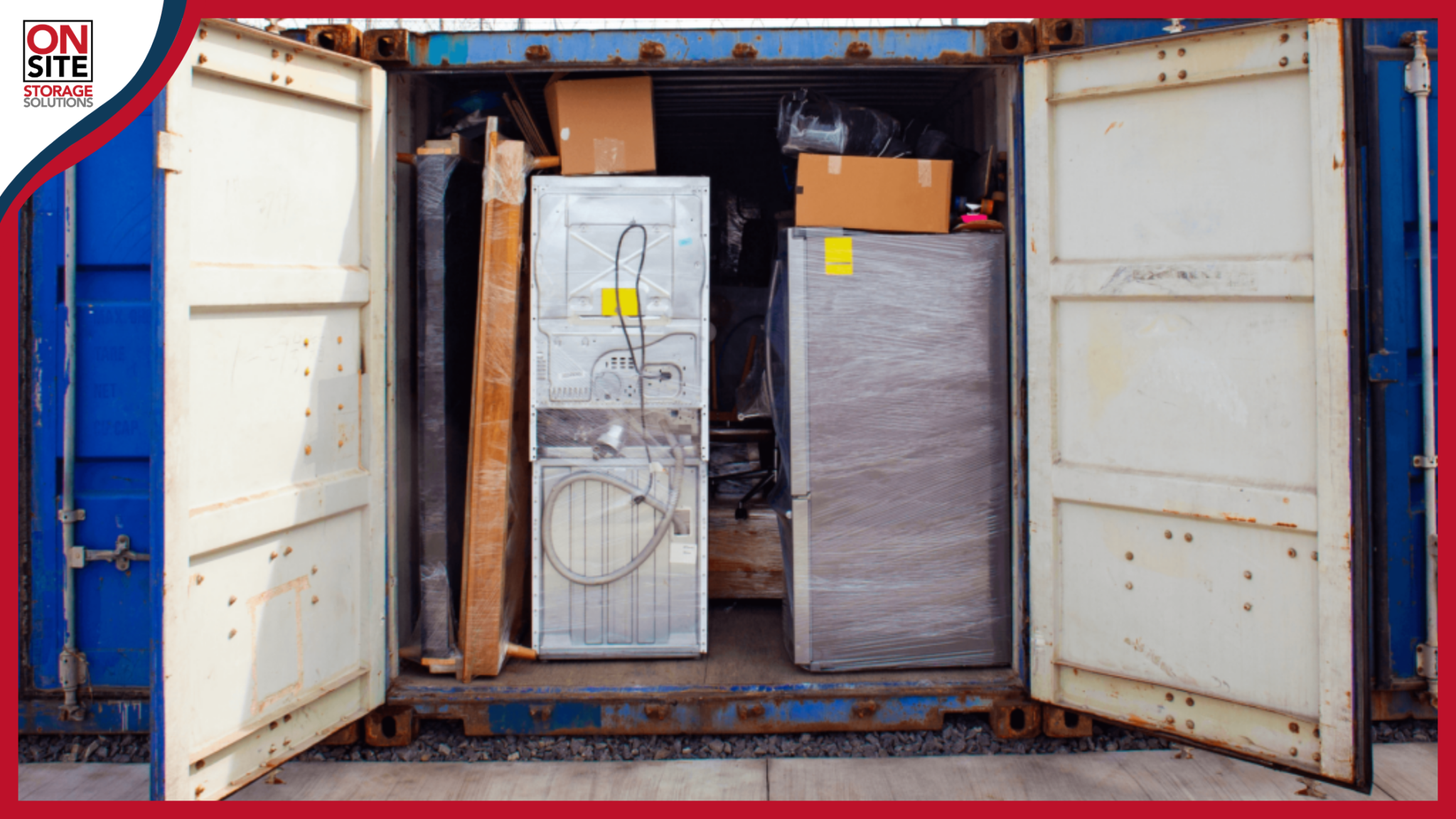 You're not restricted to using a regular moving van – Shipping containers are available in 20' and 40' sizes. Choose a shipping container based on the items you need to move. You can hire an independent driver or a professional company to assist with the move or, if you have the proper trailer you can make the move yourself.
You can resell the shipping container –  Shipping containers are in high demand and built to last. As a result, there is an inherent resale value associated with them. You can resell your container on your own or contact the professionals at onsitestorage.com to assist you in getting the best price possible and help to recover some of your moving costs.
You might be able to haul the shipping container with your own truck -If you have a vehicle built for towing, you may be able to haul your shipping container along with a trailer. If you don't have a vehicle that works, you could rent one.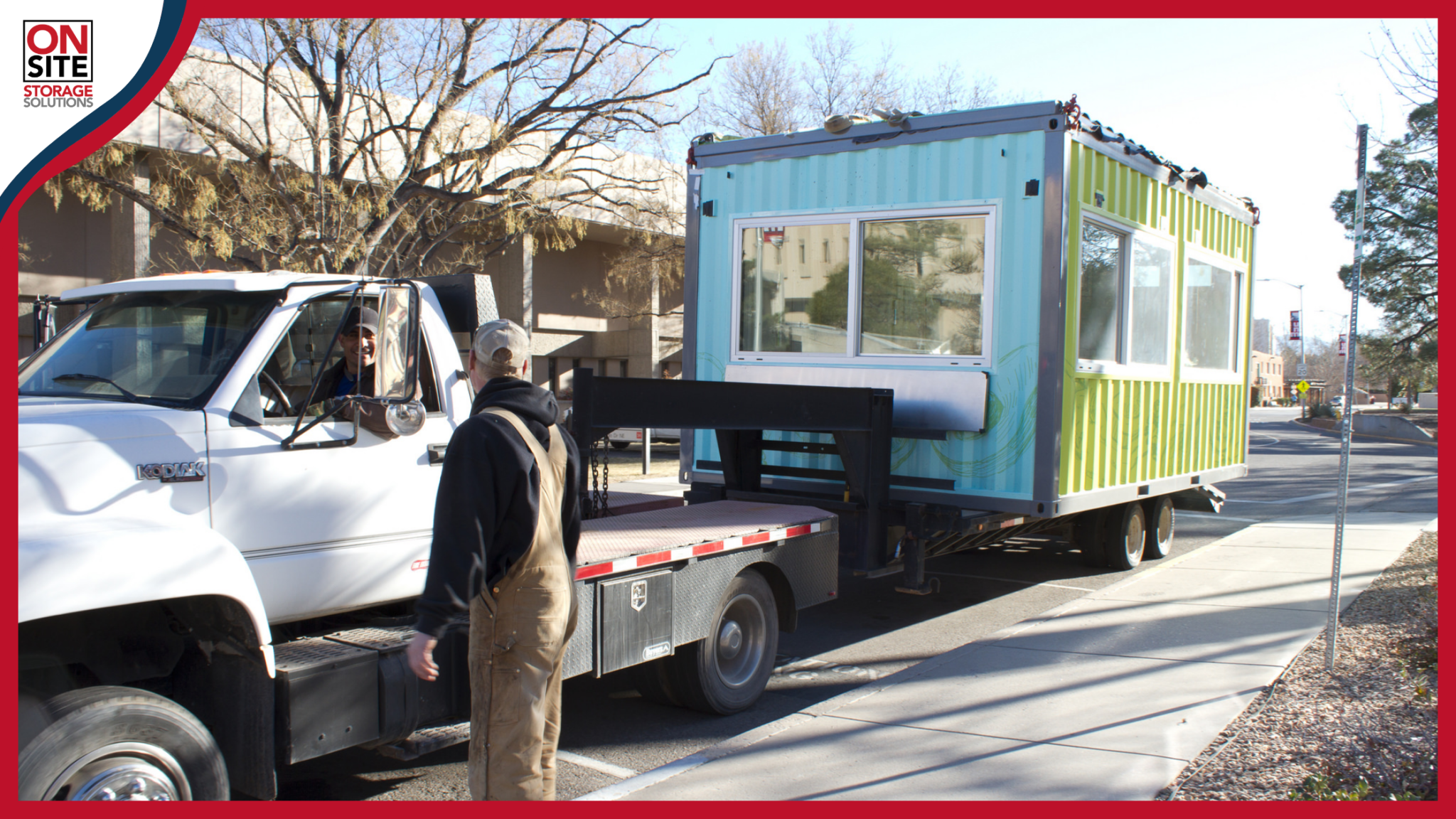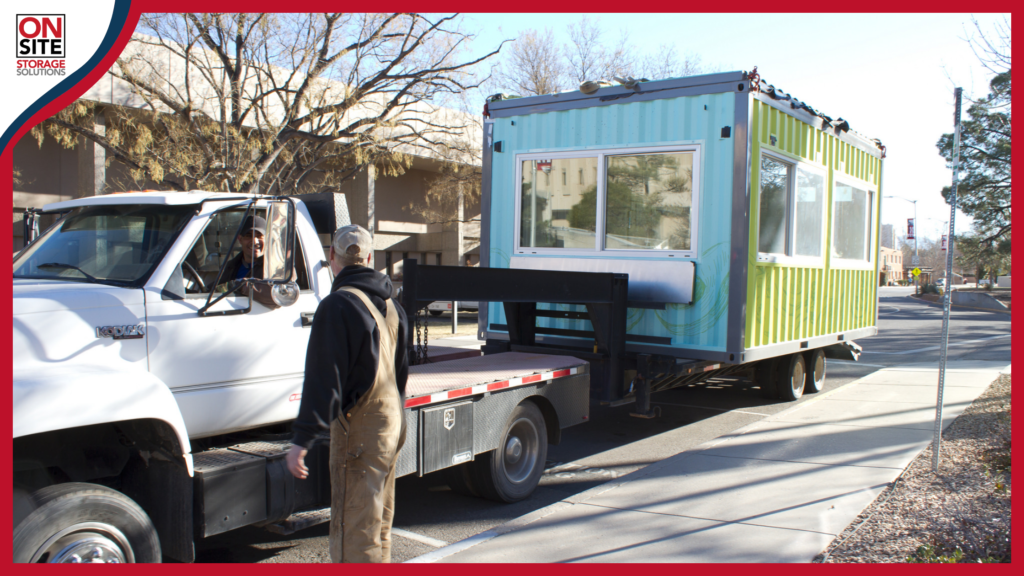 Containers are great for storage and sheds –  Once you make the move, you'll have an empty container that can be utilized for extra storage at your new home or converted into a work shed or extra bedroom.
Cons for purchasing a storage container to move your belongs to another state:
Here are a few things to consider before purchasing a storage container to move to another state.
The cost of the container – The cost of containers vary by size and location. Delivery of the container to your delivery address is an additional cost. For container and delivery prices in your area contact onsitestorage.com.
The cost of the driver – Companies typically utilize tilt-bed drivers to move empty shipping containers because these specialized trucks can easily load and offload the container without any additional equipment. However, tilt-bed driver rates are usually double that of flatbed drivers and they prefer not to move loaded containers because the contents can shift and become damaged in the loading and unloading process. Thus, for long distance moves a flatbed driver would be ideal. However, keep in mind a flatbed truck would require a crane to load and unload the container onto the truck. Here some costs you will incur with a flatbed driver:

Cost per mile starts at $3.5 one way.
Cost of crane to load the container onto the flatbed.
Cost of crane to offload the container from the flatbed.
Appropriate delivery location – If you are considering purchasing a container to move across states you would most likely be purchasing a 40 Foot container to accommodate all of your belongings. It is important to ensure that you have ample space at both of your locations for this size of container. Minimum space requirements are 120' straight way, 13' wide, 14' height which increases while unloading. The ground must be level, hard and dry and able to withstand the 30,000 pounds of the truck and the container plus the weight of its contents.
Coordinating loading and unloading of the container with a crane –  You will most likely be utilizing a flatbed truck to make the move which will require a crane at each end to load and unload from the truck. Most people will also have to hire a crane operator to do this move. It's important to coordinate both the truck and the crane to minimize cost as most crane operators charge by the hour.
Where should I start?
Now that you understand the pros and cons of using a shipping container for a long distance move let's discuss your next move.
Calculate the cost of moving using a traditional moving company – Start with the money. Contact several moving companies to come up with a realistic budget for your cross country move. You may also want to calculate what it would cost you to rent a moving van and do the drive yourself.
Calculate the cost of purchasing the container and hiring a driver to move it cross country – When calculating this cost be sure to include the cost of the crane to load and offload the container. Call Onsitestorage.com for rates on the container and delivery to your current location. You will have to contact local crane renters for the cost of the crane.
Compare the costs of both and decide what's best for you – Your decision will really boil down to what your priorities are. Cost may only be one factor for you.
Consider purchasing a container at your new location – If the cost to move a container cross-country is too high but you like the idea of owning your own container for extra storage space you may want to consider purchasing the container at your new location and having it delivered to your new home. Onsitestorage.com can provide you with both the container and delivery prices and ensure that your site is ready for delivery.
Buying a shipping container might be one of the best, most creative financial decisions you've ever made, depending on how you use it. It's critical to think about all of these factors before purchasing a shipping container but On-Site Storage Solutions can provide you with this level of simplicity. Our storage containers are ideal for a wide range of applications, and each customer receives the finest attention from us. Get in touch with us by calling (888) 405-8772 now.
FREQUENTLY ASKED QUESTIONS
The cost for transporting a shipping container over a short distance within the same city as the depot is around $5 per mile. However, the actual pricing may differ depending on different factors including the size of the container, the route that is taken, and the destination of the container.
Secure cargo in a container involves bracing with wooden or metal beams, using cargo nets or straps to hold items in place, and utilizing dunnage bags to fill empty spaces. Additionally, securing the cargo with twist locks or lashing points within the container helps prevent movement during transportation, ensuring safe and stable delivery.
To move a shipping container without heavy equipment, attach a forklift or crane to a tractor/truck, or use a tow truck/flatbed trailer with a winch. Alternatively, employ levers, rollers, and pulleys to manually push or pull the container into position. Choose the method that suits your resources and ensures safe and efficient movement.