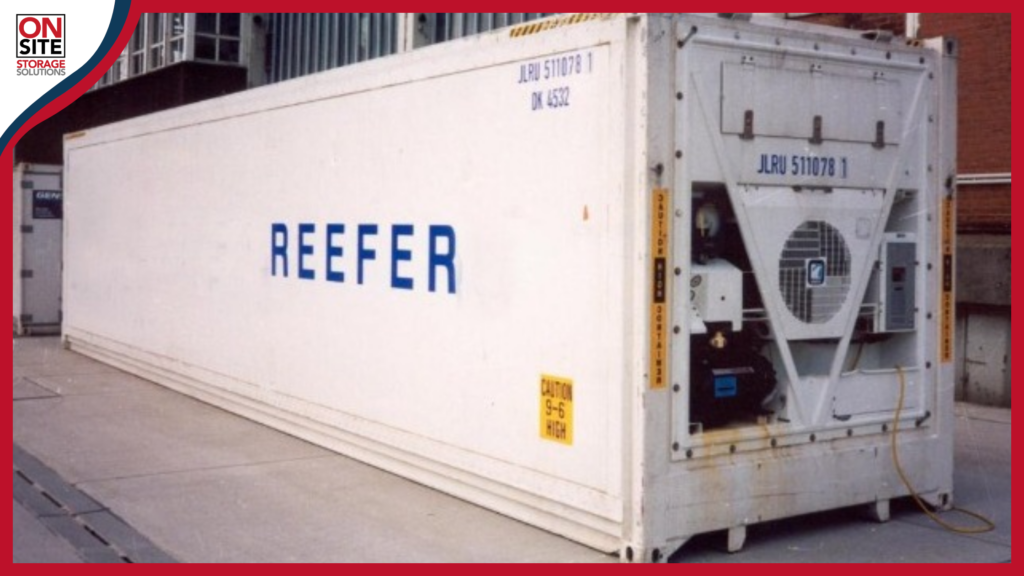 Refrigerated shipping containers (reefers containers) are used to ship temperature-sensitive products such as fruit, vegetables, fish,meat, dairy and even liquids.
Because of their distinct features, these containers have a wide range of applications that extend far beyond cold transportation, making them a popular choice among On-Site Storage solution customers.
What exactly is a reefer container, and how does it work?
Let's go through everything you need to know in detail below.
What exactly is a Reefer Container?
If you want to transport (or store) temperature-controlled items or non-food items for a specific length of time, a reefer is an excellent option.
These containers are extremely adaptable and customizable and can be powered by a number of energy sources, such as plugging into an existing power source or operating on a generator. Please note that these units require 3 Phase 440 Volt for plug in or a generator can be purchased separately.
Although a reefer container may be similar in appearance to a standard container, they are in fact different as they are outfitted with technology that allows them to operate as portable refrigerators, ensuring that their internal temperature stays constant even when the climate changes.
They're also a cost-effective option for keeping large amounts of temperature-controlled goods at any location, which is why reefer storage is becoming increasingly common.
How Does a Reefer Work?
Reefer containers are built to withstand extreme heat, humidity, and dampness while in transit. They're also meant to keep temperatures consistent inside regardless of the weather conditions encountered on container ships' trips.
At the same time, these containers can also maintain internal temperatures for specific periods of time. If required, some containers may keep a temperature of around 30°C for extended lengths of time.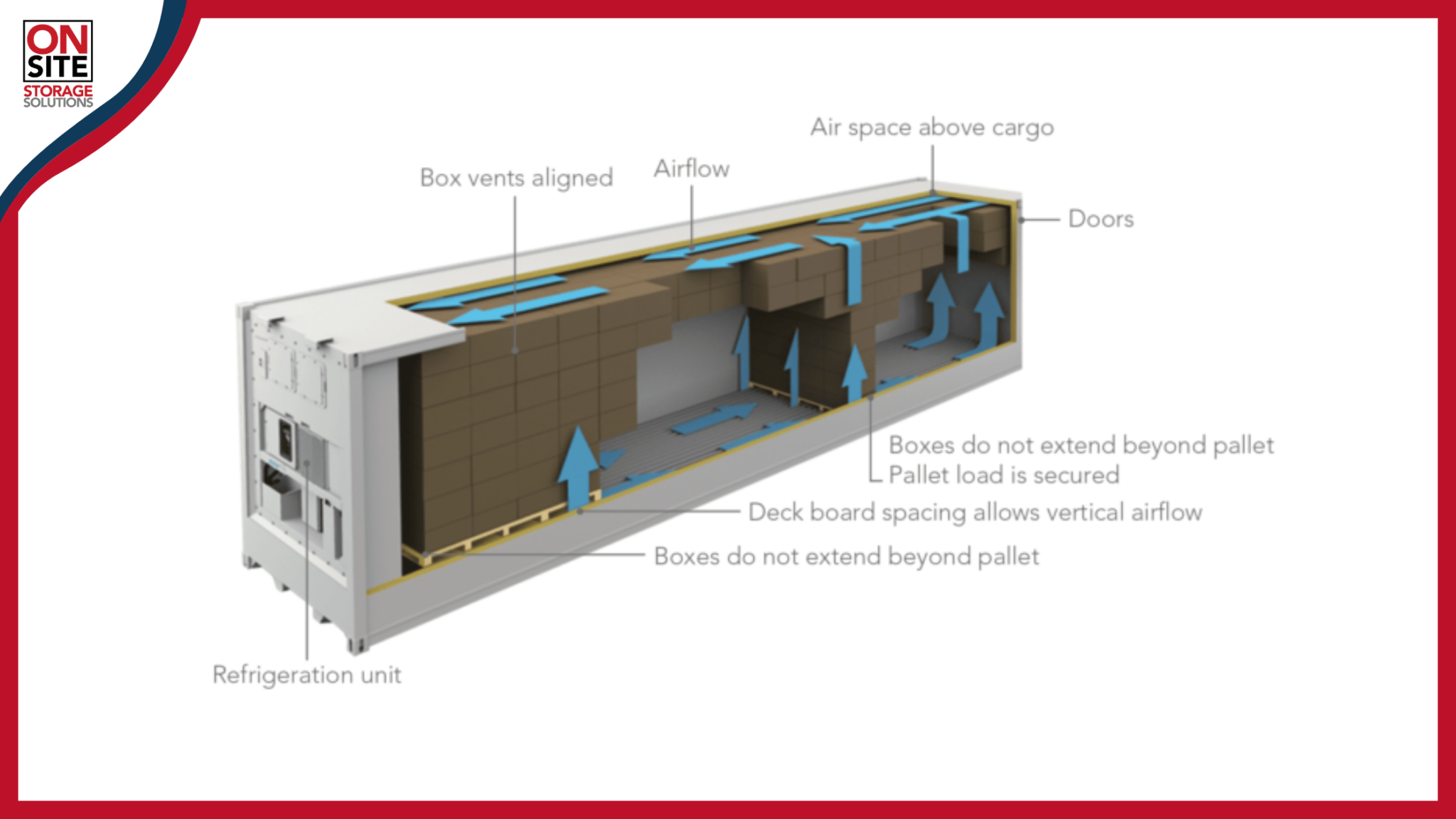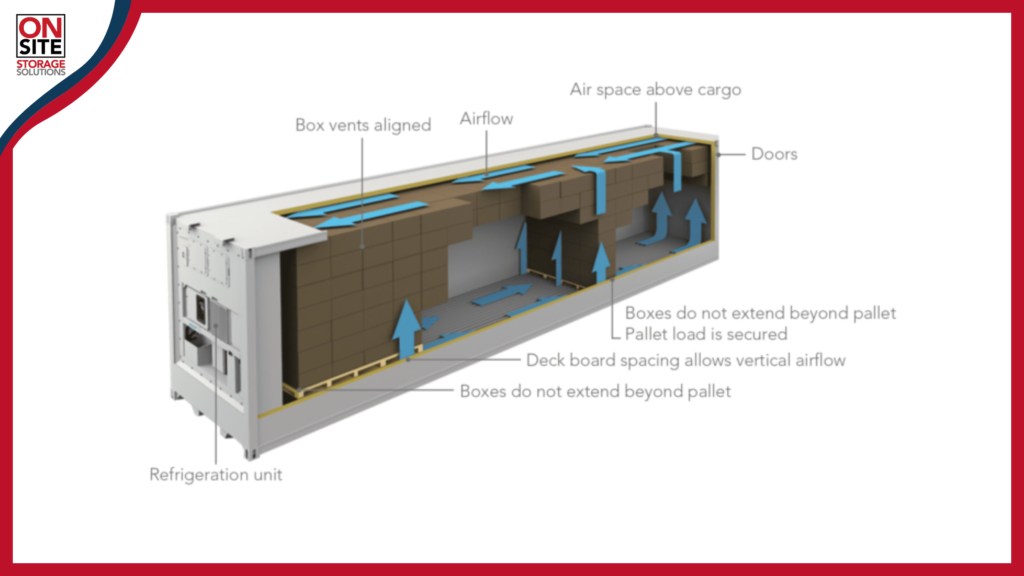 It's critical to understand how these containers function – the technology behind them isn't designed to lower or raise the temperature, but rather to keep pre-cooled products at a constant temperature when compared to external conditions.
The "air-cooled" container is a type of air-conditioned refrigerator. These refrigerators contain cooling coils, which guarantee that fresh air circulates throughout the container at all times so long as the items are packed and stacked properly in the container.
The popularity of these containers is due in large part to the fact that they are both highly effective and most importantly portable. They don't require the installation or building space that a standard walk-in refrigerator or freezer would. All that is needed is a site large enough to allow for this 40-foot container to be delivered and a suitable power source. They are also ideal for times when the need for refrigerated storage is temporary.
Another benefit is that reefers provide a wide temperature range. Restaurants or retail businesses use them for a wide variety of products during peak seasons when extra storage space is needed.
Our Catalog
We take pleasure in offering a large selection of reefer containers to our clients at On-Site Storage Solutions.
Our containers may be used to provide cold transport or storage of temperature-sensitive products. We have a variety of containers that can cool down to -20 degrees Fahrenheit, -40 degrees Fahrenheit, and even -76 degrees Fahrenheit, and we also have Insulated non-working refrigerated shipping containers, which are refrigerated containers that no longer have a working refrigeration unit. They usually have one set of double doors on the end.
Non-working refrigerated shipping containers are also known as insulated containers or non-operating reefer containers (NOR). They are refrigerated containers that no longer have working cooling units but still provide insulation. These are perfect for customers who do not require cooling for products but would still like to protect their products from extreme temperatures by providing insulation.
Standard storage containers do not come insulated and adding insulation is often costly. A non-working refrigerated container is a great alternative to this.
We provide a large range of reefer containers and also have experienced and knowledgeable agents available to you to discuss your specific project needs. We can assist you to ensure you have the proper power source for your project, whether it is a short-term or long-term project.
We can provide you with both a purchase price or a rental price for a refrigerated container so that you can decide which route is best for you. We understand that every project is unique and we want to ensure you get exactly what you need.
If you're not sure what sort of reefer container is best for you, we can show you past examples of the work we did for other clients and offer you suggestions to find the best solution for you. Whether you want to transform a reefer container into a seaside restaurant or a branded icebox or you simply need cold storage space, we can help. Feel free to Browse through our comprehensive catalog of shipping containers. We are sure you will find one that fits your needs!
If you'd like to get a quote or speak to an agent instead, you can Request a quotation now or call (888) 405-8772.