In recent years, shipping containers have become increasingly popular thanks to their mobility, durability, and cost-effectiveness. As such, they've been used in a wide range of different applications from homes and offices to retail spaces, entertainment venues, and even gyms! In this article, we take a look at why shipping container gyms are becoming more popular than ever before.
There are many container companies offering used shipping containers at low prices. These containers come in a variety of sizes, styles, and colors. Finding the perfect container to fit your needs is an easy task, as you can select one that best suits your style and budget.
2. Portability & Flexibility
Unlike traditional steel frames or wooden structures which require foundations when constructing them – shipping containers come preassembled and ready to go. This makes them perfect for those looking for something that can easily be transported from one location to another. Additionally, since you can customize your unit's features according to your own unique needs (such as adding windows, air conditioning/heating systems, or plumbing fixtures) – you have the ability to create a facility that functions as both a gym and an entertainment center depending on what you need it for!
Using shipping containers for gym construction can be an incredibly cost-effective option. Depending on the size and type of container chosen, costs can range from as little as $1,500 to up to $10,000. This makes them much more affordable than opting for a traditional brick-and-mortar space which may require hundreds of thousands of dollars in start-up costs.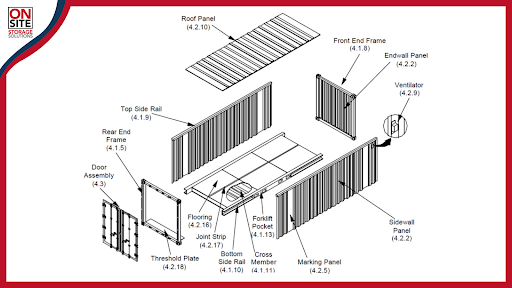 Although not as strong as brick buildings – shipping containers are still incredibly robust units designed for heavy-duty transportation purposes which makes them ideal for holding heavier pieces of equipment like weights and treadmills. Plus, since there are few anchors needed in order to keep them standing strong – the entire gym will be better protected from extreme weather conditions too!
Shipping container gyms are quickly becoming one of the most popular facilities out there thanks to their unbeatable portability and their low-cost efficiency. So if you want a place to stay fit without breaking the bank – then why not give this innovative option a try?
On-Site Storage Solutions
Whether you're looking for turn-key gym containers or storage containers with the capacity to hold all your equipment, On-Site Storage Solutions can provide you with a range of options that are sure to fit within your budget. Additionally, we offer customized services – so you can be sure that your container will be ready to perform its job to the best of its abilities. So don't hesitate, to call us at (888) 405-8772 or send us a quote here!