Have you ever wondered what shipping containers are made of? What kind of materials could withstand the wear and tear of being shipped across the ocean hundreds of times? Turns out, shipping containers are pretty rigid. made mostly of steel, they can handle a lot. But that's not all they're good for! Containers can also be repurposed into all sorts of things, from homes to swimming pools. So if you're ever curious about what goes into making a shipping container, read on!
What are Shipping Containers Made Of

How are Shipping Containers Made

Where are Shipping Containers Constructed?

Components of a shipping container

Other Shipping Container Materials

How Long Can a Steel Shipping Container Last?

How to Protect your Shipping/Storage Container

Are Shipping Containers Bulletproof?

Conclusion
What Are Shipping Containers Made of
The standard shipping container is composed of Corten steel for the walls, doors, and other important structures – not just any metal that can withstand being shipped across oceans. Corten steel is a high-quality alloy that resists corrosion, making it ideal for sea travel.
Why corten steel you ask?
Corten Steel is a type of alloy steel specifically designed to form a protective layer when exposed to weather conditions. This type of steel is corrosion and rust-resistant, making it an ideal choice for constructing durable shipping containers. It is also commonly used in construction projects, from bridges to buildings, due to its strength and longevity.
How are shipping containers made?
Shipping containers are usually constructed with a combination of steel, aluminum, and fiber-reinforced polymer. Steel is used for the main structural components, while aluminum is used for the doors, roof panels, and other smaller parts. The fiber-reinforced polymer is used to insulate the container and make it weather-resistant.
We begin the shipping process with a large roll of steel, which we then unroll and cut into several pieces at our state-of-the-art facilities.

We use sandblasting and priming to clean these steel sheets by removing rust, dirt, and other pollutants.

Then sheets go through a corrugating process that strengthens the material.

Roof panels, floor braces and sheets for wall panels are all separately made. The sheets for the wall panel are welded together.

The square tubing is welded onto the top of the walls.

After the joists are in place, floor panels are put together to create a floor frame.

The door and corner post are assembled separately.

Next, the door assembly is installed on the floor frame. Finally, the wall panels are installed.

The corner posts, wall panels and door assembly are welded together.

The roof panel is assembled next by welding it all together.

The walls have been primed and painted.

The wood frames are being varnished in order to be put on the floor.

After the flooring panels are placed in the container, holes are drilled to attach them to the container floor.

We have finally installed the door hardware, which includes rubber seals to make the doors watertight.

Then, the bottom of the container is waterproofed and put through water tightness testing.

After the box is put together, it is inspected to make sure that there are no leaks or other issues.
Where are Shipping Containers constructed?
In 1980, China began producing shipping containers due to not only the cheaply available labor at the time but also because of its main steel production and recycling. A little under a decade ago, countries such as Taiwan, Hong Kong, Japan, Korea and most of Europe were having their shipping containers manufactured in China. By 2007, the country had reached an 82 percent world market share for steel shipping containers.
Components of a Shipping Container
A 20-foot shipping container typically consists of 14-gauge steel walls that are corrugated for additional strength, a floor made from 28-gauge steel, double doors on one end, and a cached roof. The cargo area itself is 1,360 cubic feet, or about the size of a small room or large closet.
The cargo area is divided into two equal sections by a bulkhead, which is a wall that runs perpendicular to the doors. The bulkhead helps to distribute the weight of the cargo evenly throughout the container and prevents it from shifting during transit. There are also several vents located near the top of the container that help to ventilate the cargo area and prevent condensation from building up.
In addition to the cargo area, there is also a small amount of space located behind the bulkhead that is typically used for storing paperwork or other small items. This space is not large enough to store any significant amount of cargo, but it can be useful for storing things that you need quick access to.
Some key features that distinguish shipping containers from other types of storage include:
The steel beams in the corners of shipping containers are called corner castings. They have holes for twist locks, which allow them to be attached to other containers or firm objects. They're also durable enough to be lifted by a crane when fully loaded.
Twist locks are a great way to ensure that your shipping containers are securely connected to either anchor points or other containers. The end piece of the twist lock is designed to fit perfectly into the corner casting, and can then be easily locked into place with a lever.
The bottom of a shipping container is supported by beams or joists called cross members. These cross members allow space between the flooring and the ground so that moisture cannot seep into the container from underneath. One of the reasons that many container structures don't require a foundation, such as ground-level offices, is because of cross members. Cross members are part of the floor frame and they lift the structure off of the ground which protects it from damage caused by natural elements.
Each of the 20-foot and 40-foot containers typically have two openings on their bottom edge which are used for a forklift. Forklift pockets are slots that have been reinforced to be able to accommodate forklift tines. This allows forklifts to insert the tines and lift or move the structures easily. Please keep in mind that some shipping container modifications can make the structure too heavy to lift with a forklift, particularly modified 40-foot shipping containers.
Most storage containers have two steel doors (called cargo doors) at one end, though some models have door assemblies on both ends or even on the side walls.Cargo doors were designed to keep pirates and thieves out, as well as bad weather. They're strong and secure, keeping your valuables safe inside. If you're new to using shipping containers, opening and closing the cargo doors might be confusing. Be sure to watch our helpful video tutorial so that you know what to do.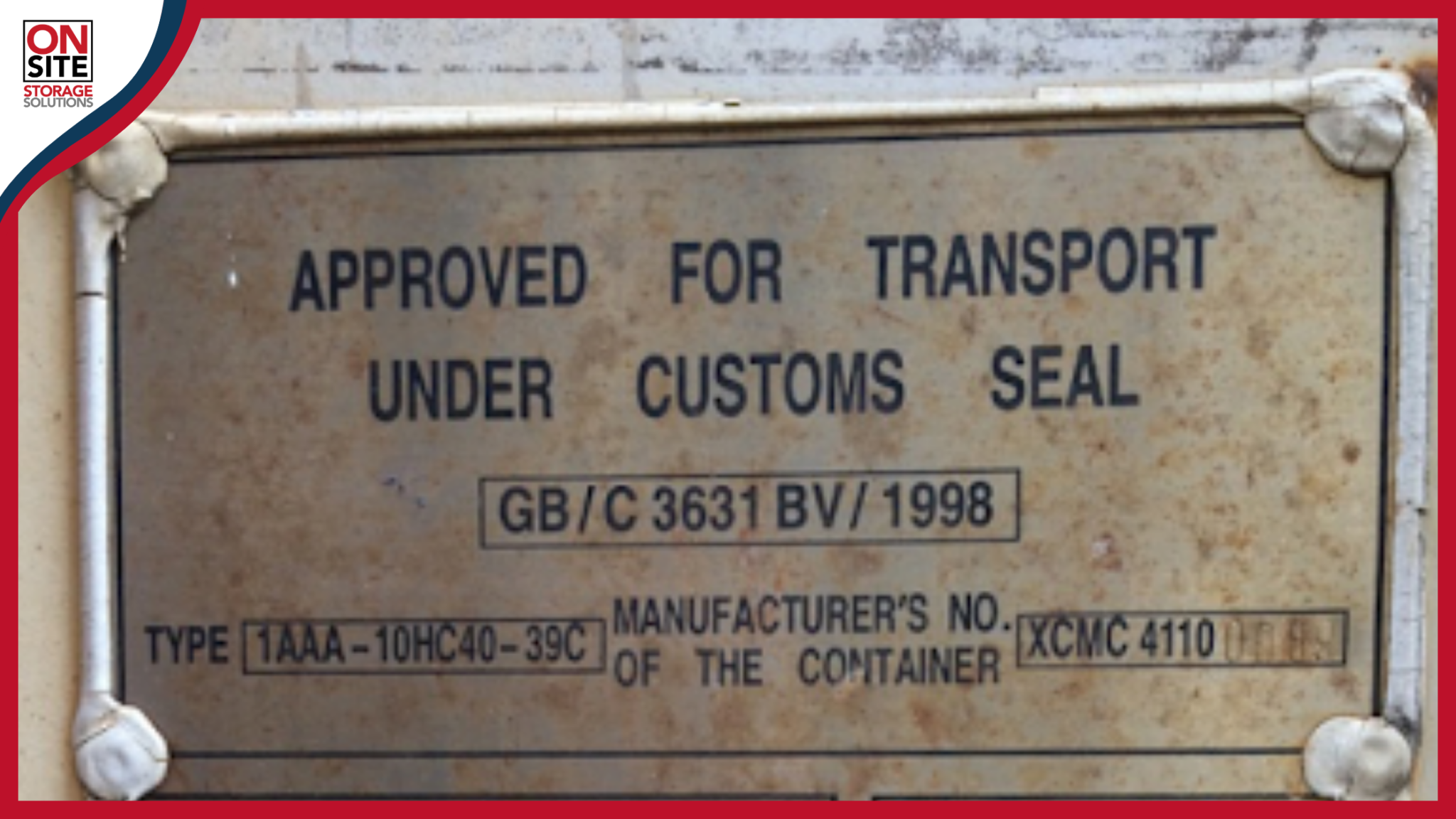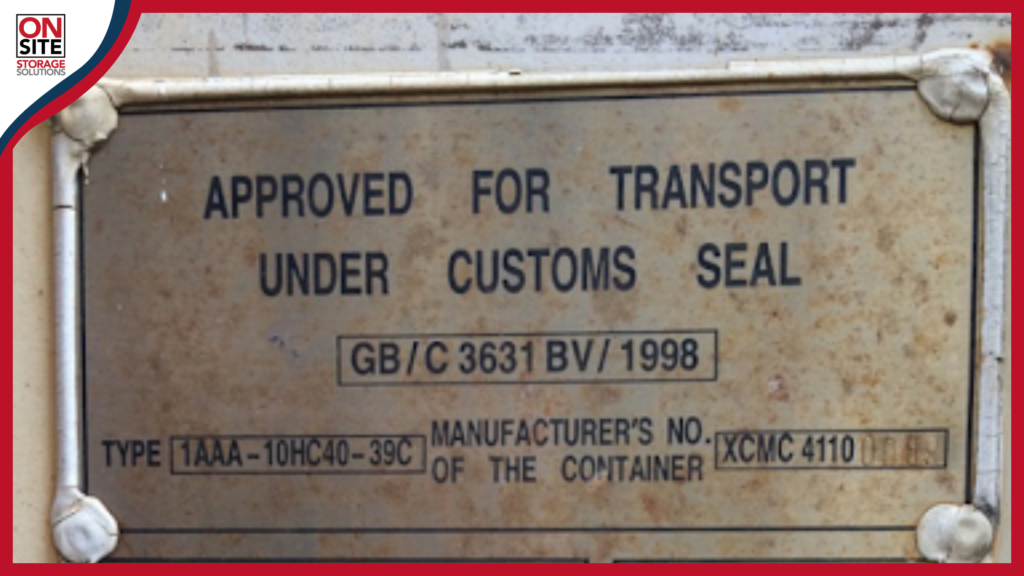 CSC stands for The International Convention for Safe Containers. Its standards regulating shipping container design help prevent structural failures and protect human life.
For example, shipping containers loaded with tens of thousands of pounds of cargo are often stacked several units high. If they were to collapse at a port or while at sea, it could be catastrophic for any employee working below them. A CSC plate on a shipping container means that a certified inspector has checked the container and declared it to be safe for cargo.
Other Shipping Container Materials
Some parts of a shipping container, like the floor, are usually constructed with materials like bamboo or marine-grade plywood.
Although less popular, bamboo flooring is still available and can often be found in older shipping containers. This is because bamboo is incredibly durable and able to resist mildew build-up. Many people use bamboo flooring in their shipping container structures and restaurants because it is visually appealing. You can easily tell if a shipping container's floor is made of bamboo by the woven patterns on its surface.
Recently, marine-grade plywood has become more affordable and readily available for manufacturers. Usually infused with insecticides, this type of wood paneling is less likely to be eaten away by insects during long voyages. Some types of plywood are water-resistant to a limited degree, but you can also find options with additional coatings for extra protection. Marine-grade plywood is especially durable and flexible, making it a great choice for people who are building their own shipping containers.
How Long Can a Steel Shipping Container Last?
Shipping containers are designed to withstand some of the harshest conditions on earth, but even they have a lifespan. Most shipping companies will sell their used containers after 10-20 years. But that doesn't mean they're at the end of their useful life. Many people purchase them for alternative use and get many more years of service out of them. A shipping container maintains its integrity and lasts longer when used as a storage unit than if exposed to extreme weather conditions.
The usual lifespan for a lease/rental container is 10-12 years, whereas a storage container can last anywhere from 25 to 50 years. There are several durability factors to consider for small shipping containers, the most important being how well you treat it and if the exterior is properly insulated and painted. Cladding can be an effective measure to further protect your container.
How to Protect your Shipping/Storage Container
You can prolong the useful life of your shipping container by taking a few simple measures:
Keep in mind that Corten steel will not prevent corrosion, but only delay it.

Take extra care of horizontal areas, indentations, or dents on your container. If water is permitted to lie on any surface of the steel then the oxidation process will expedite.

Lastly, focus on any welding seams and Urban Outfitters always keeps an extra coat of Rustoleum or other outdoor paint applied to them. The paint covers any small cracks and chips that you might not be able to see. Plus, it just looks nicer that way!
If you're looking to prevent rust on your shipping container or want to know how to paint a rusted one, take a look at these posts.
How to Prevent Shipping Container Rust
Are Shipping Containers Bulletproof?
The National Geographic show "Doomsday Preppers" put a shipping container's strength to the test by seeing if it could stop a .22 caliber long rifle round–and they found that it could.
The YouTube channel "Civil Advantage" released a clip demonstrating how a shipping container could block various types of bullets, including 9mm hollowpoints and 12 gauge buckshot. The following types of bullets were able to penetrate the container:
PolyCase

9mm FMJ

5.56 Frangible

.223 JHP

12 gauge slug
Shipping containers are made from a variety of materials, depending on their intended purpose. The type of material used will dictate how long the shipping container will last. Steel shipping containers can last for decades if properly cared for, while other materials will have a shorter lifespan. If you're worried about your belongings being damaged during transport or storage, On-Site Storage solutions have got you covered. We have a wide variety of shipping containers to choose from, and we would be happy to help you find the perfect one for your needs. Give us a call today at (888) 405-8772 and let us help you get started on protecting your valuable possessions. Or feel free to browse through our comprehensive catalog of shipping containers. We are sure you will find one that fits your needs!