Which one is better for storage? Storage Sheds or Shipping Containers
So you ran out of storage space and you've decided it's time to invest in extra storage. You can't decide between constructing a shed or purchasing a used steel shipping container to store your items in.We'll compare the benefits and drawbacks of each choice so that you can make an informed decision on your storage needs.
In a nutshell, a shipping container for storage is typically a superior alternative because of its durability, affordability and mobility.
Let's begin by looking at a few criteria that will be used to compare shipping containers and storage sheds:
Different uses

Cost

Durability

Size of storage space

Difficulty of set up
What type of storage do you require?
Backyard storage sheds have traditionally been a popular choice for homeowners who desire extra storage space. They are great for storing anything from yard and garden tools and supplies to seasonal decorations, and their dollhouse-like appearance makes them a nice addition to any home.
The advantages of utilizing a container for storage
Because they are made of durable steel, they're excellent for keeping your goods safe and close to home. A shipping container has several benefits over other forms of self-storage, including the fact that it's a one-time investment with no ongoing rental costs.
Durability

– A metal cargo container is more durable than a wooden or vinyl storage shed. 

Containers are made of Corten steel, a type of mild steel that can withstand all kinds of weather conditions and maintain a watertight, sealed environment. And, as long as you treat the rust spots and give it a paint job every few years, it can last you a lifetime.

Low Maintenance – The convenience of using shipping containers for storage is one of their greatest appeals. Containers may be purchased new or used, and they can last years without requiring much care. The 14-gauge Corten steel used in the Conex boxes ensures minimal upkeep and long service life. Find out

how to maintain your shipping storage container

.
No Building Costs

– Storage containers won't require any building costs. Once they are delivered they are ready to use. Compare this to the money and time it will take you to build your own shed. Traditional wood sheds require regular maintenance and a fresh coat of paint every few years to combat decay, mildew, termites, and weather damage. What's more, if you hire a contractor to build it for you. the cost could skyrocket. With a shipping container, you'll know the cost up front. There'll be no surprises.

Security

– With proper locking mechanisms in place, a shipping container can be almost impossible to break into. Before you purchase your container, ask about lock boxes and other locking devices you can add to your container for upgraded security. Unlike the flimsy doors of a traditional shed, the shipping containers come with heavy robust steel doors that are difficult to break into.
Most sheds may be accessed without difficulty by a crowbar and hammer-wielding thief. To penetrate the thick doors and walls of a steel cargo container, a very determined crook will need power tools, make a lot of noise, and require quite some time.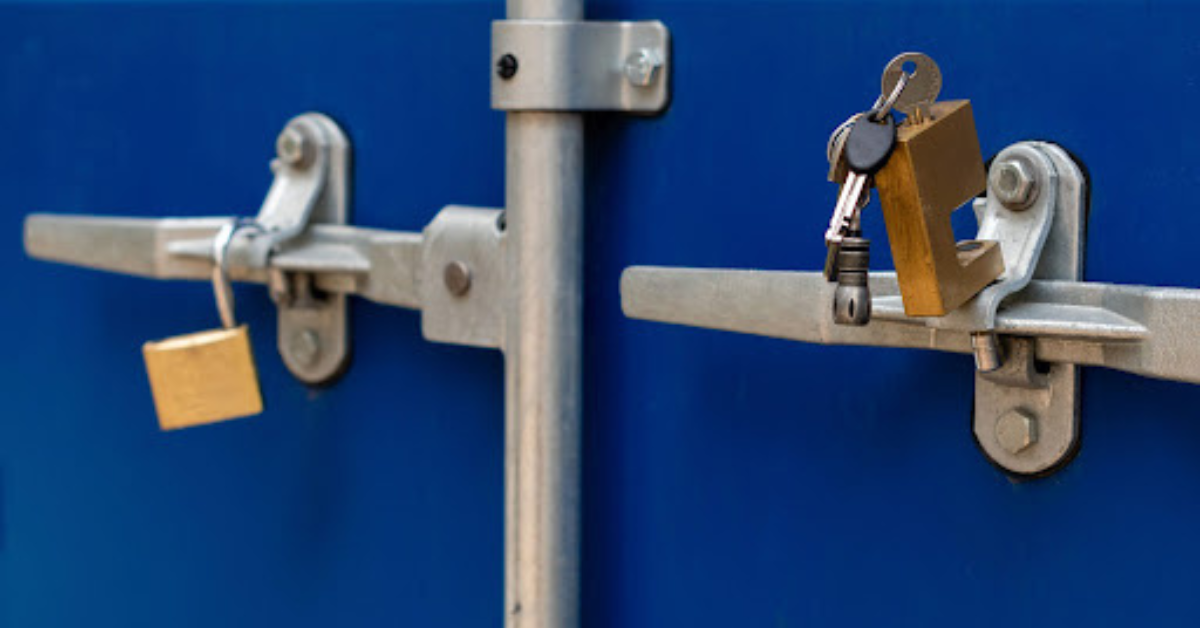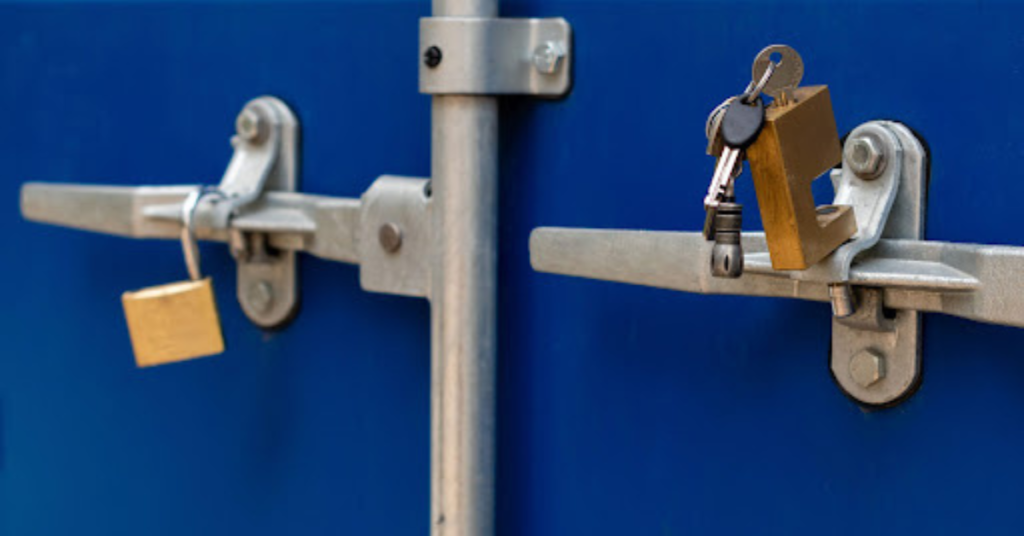 The containers' high-quality locks, combined with their sturdy construction, ensure that entry is difficult. Extra protection against intruders can be obtained by installing heavy-duty doors and securing them with lock boxes and high-security locks. If you're keeping valuables,
Sizes – The sizes of a ready made shed are rather limited. And the more room you need the more you'll surely pay. Sheds from most Home Improvement retailers range in size from Medium (90-120 square feet) to Large (144-288 square feet). A 12-foot shed would measure 12′ x 8′ x 7′ and contain 672 cubic feet of storage capacity. Compare that to the sizes of the standard containers;
The 20FT Long x 8FT Wide x 8FT Tall Container has a volume (Storage Space) of 1,172 cu ft (33.2 M3), which is more than the usual storage shed. Also, containers come in a variety of measurements.
The following are the size standards for ISO shipping containers:
8ft (2.43m) wide, 20ft (6.06m) in length and 8.5ft (2.59m) high ceiling
8ft (2.43m) wide, 40ft (6.06m) in length and 8.5ft (2.59m) high ceiling
* High-cube containers, which are larger than standard shipping containers and have a height of 9.5 feet (2.89 meters), are available in many varieties of heights to match your needs.
Difficulty / Ease of set up
Below is a comparison of the ease or difficulty of set up between a prefabricated shed, a shed you build and a shipping container shed. Prefabricated Shed – If you purchase a prefabricated kit from Home Depot or Lowe's, it typically requires assembly unless you pay extra to have a professional assemble it for you. The DIY will save you money, but, depending on your skill level,  it can take several weekends to complete the project and will require you to have the necessary equipment. Keep in mind that most sheds do not come with a floor and you can either build your own or purchase it separately.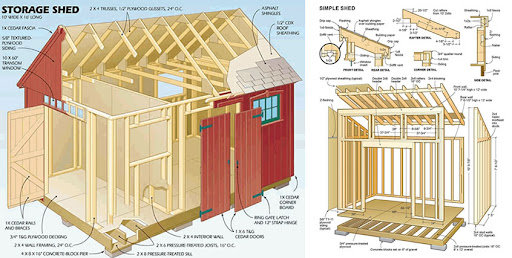 Build Your Own Shed – Any building addition to your property will require permits from the city and you will be required to have it inspected by a building inspector to insure it's up to code. Not doing so can result in hefy fines. Depending on your building expertise, you may need to hire a professional contractor or labor to help you get it built. This will surely add to the cost and the time of completing the shed.
Shipping Container Shed – Other than clearing a space for delivery and drop site for the container, there is no additional setup requirement. Once your container has been delivered you can put it to use as a storage shed. It is important to make sure you have enough space for delivery and that your site is prepped for delivery. For more information see Shipping Container Delivery Requirements.
Moisture protection – On lengthy sea voyages, storage containers are designed to be completely waterproof. They're constructed of waterproof steel with sealable doors that guarantee anything kept inside is safe and dry.
Protect against pest problems –It's likely that bugs and possibly rodents WILL find a way to get into your shed. Mice and rats seek out any opportunity to gain entry into wooden storage sheds, where they make their nests during the winter months. Keep in mind that some sheds do not come with a floor, so you can build your own or buy separately.
Rodents have plagued ships for centuries, and the solution was to build a sea container. When it comes to keeping pests out, steel freight containers are far superior than watertight compartments.
Environmentally friendly – Have you heard of the new green catchphrase "adaptive reuse" or "upcycling"? Using a shipping container for a shed is a way you can help the environment by recycling a product for a new use. 
Portability– If you have to relocate any time soon, you can simply take the container along with you. Or if you decide you don't need it any longer it's an asset you can sell.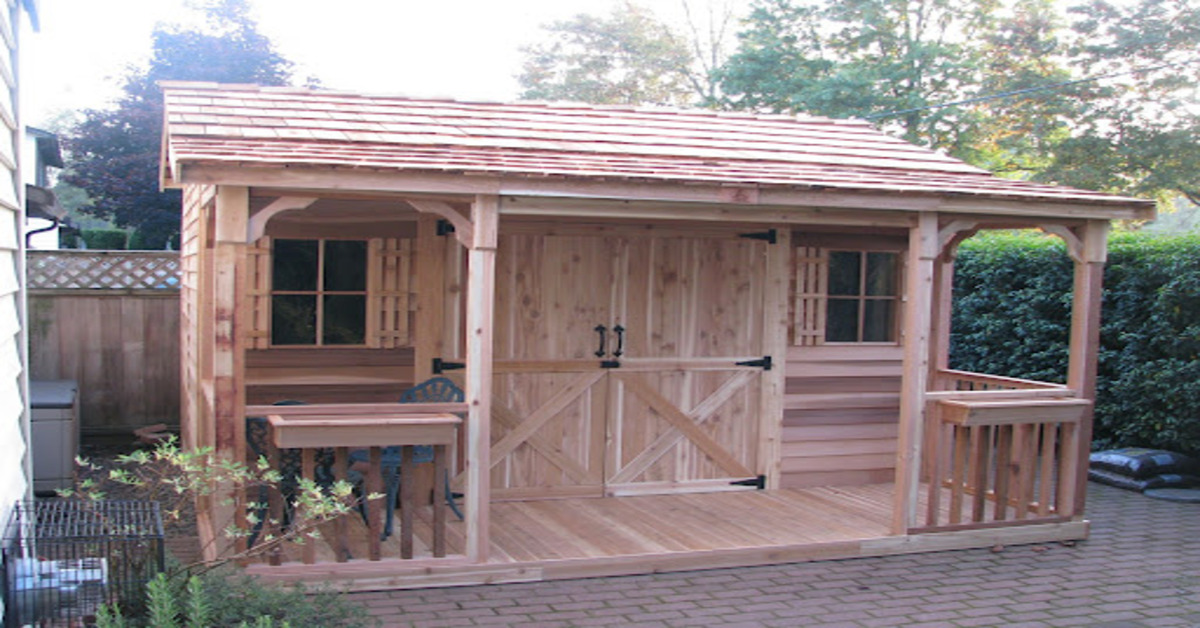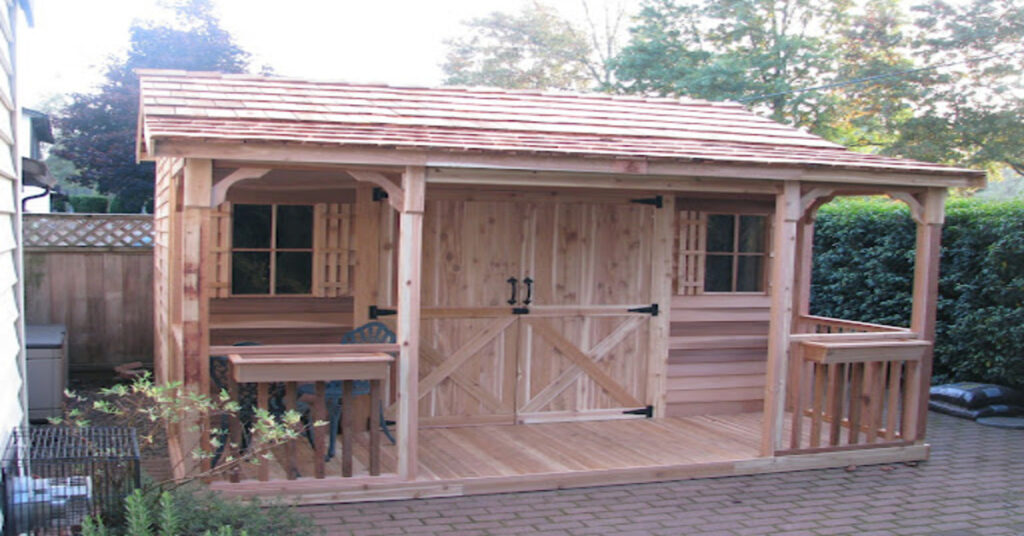 Many people care more about the price tag of a product than its quality. The short answer is that on average, shipping containers have a lower per-square-foot cost than traditional sheds.Depending on the type you purchase, a storage shed may be either pre-built or built on your property. A shipping container comes completely finished and ready to be used as soon as it's delivered. 
The cost of shipping containers and sheds are comparable, but not identical. You can expect to spend a few thousand dollars on either alternative. There are two ways to evaluate the price difference between a shipping container and a shed:
        1. Cost per square foot of storage space – On a cost per square foot basis, you'll typically find that a shipping container gives you more for your money. Most               prefabricated sheds are relatively small 10×10 buildings that don't provide much space. On the contrary, shipping containers are typically 20 foot or 40 foot containers which is often double to 4 times the size of a typical prefabricated shed. The price of shipping containers fluctuate depending on the market. But at the time this article was written, a container measuring 20′ long x 8′ wide x 8.5′ tall costs around $3,500 (prices might differ). And the price of a 40' container costs around $4,000 t0 $$6,000. 
The cost per square foot is significantly greater than a simple wood shed. A basic 12′ x 12′ shed may cost upwards of $4,000. Some larger sheds approach $6,000. With a price of $4,300, that amounts to almost $30 per square foot.
The shipping container is a significantly less expensive alternative, with an overall cost savings of over $8 per square foot versus prefabricated shed pricing at your local big box hardware shop.
        2. Total cost – including installation and/or building and delivery
Prefabricated Shed – The costs of this is typically the shed itself, the delivery, the additional cost for flooring if it does not come included, and the optional cost of installation if you choose to have it professionally installed. It's important to keep all of these costs in mind when budgeting for the shed. 

Build Your Own Shed – The costs include, material costs, permits, inspection costs, and contractor costs if you are having it professionally built. As an example the cost to build a basic shed is around $800 – $1500 on your shed (labor and materials), so an entire and completed 8×12 gable will set you back about $4500.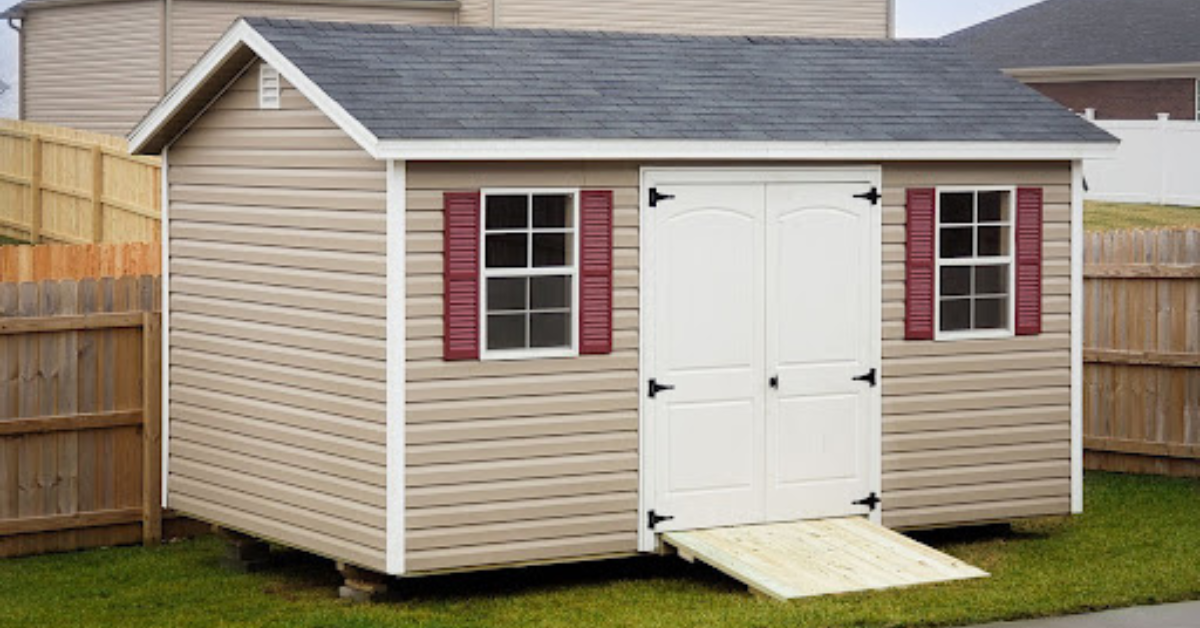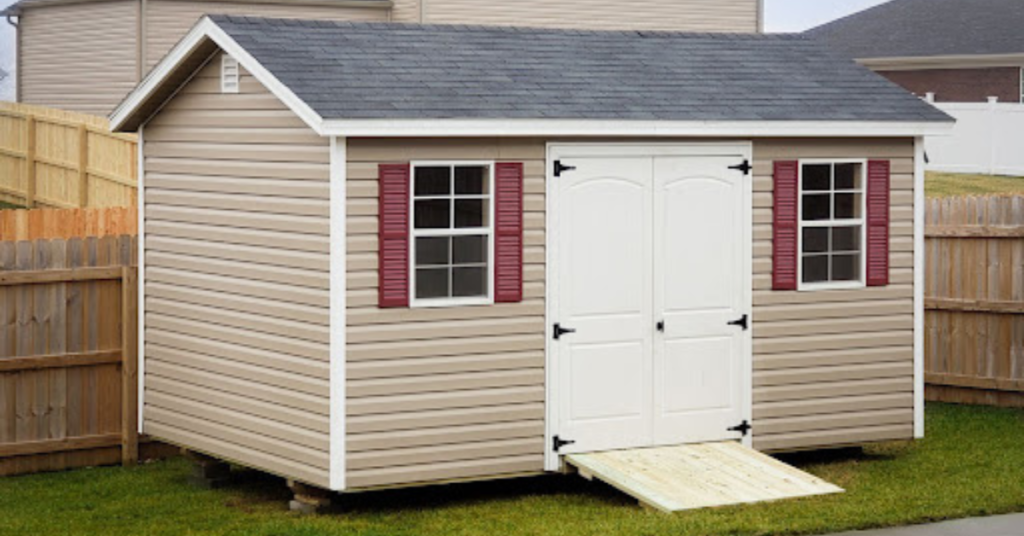 wooden or vinyl storage shed
Hopefully after reading this article you can make the decision that is right for you. It's important to consider all the costs, time and pros and cons of each alternative before you make your decision.
If you've decided to purchase shipping storage containers, but have a few questions, feel free to contact us or fill out a form and we'll be delighted to assist you in building your shipping container shed! At On-Site Storage Solutions, we have years of expertise in converting our clients' concepts into reality. Visit our online shop of top-quality containers for sale if you're looking for the ideal shipping containers. Give us a call at (888) 405-8772 or fill out our contact form to obtain an estimate for your job right now!
FREQUENTLY ASKED QUESTIONS
Yes, a shipping container can be used as a shed. Its sturdy construction and secure design make it an ideal option for storage purposes. With proper insulation and ventilation, a shipping container can provide ample space for storing tools, equipment, or other belongings. It offers durability and protection against the elements, making it a practical choice for a shed.
To transform a shipping container into a shed, begin by thoroughly cleaning and insulating the interior. Enhance ventilation and accessibility by incorporating windows and doors. Utilize shelving or hooks for storage purposes. Install necessary lighting and electrical outlets if required. For an improved exterior look, consider painting or decorating. Prioritize weatherproofing and security measures to ensure durability and protection.
To convert a shipping container into a shed, start by insulating the walls, ceiling, and floor for temperature control. Cut openings for doors and windows as needed. Install shelving or storage racks for organization. Add electrical wiring and fixtures for lighting and power outlets. Finally, customize the interior with workbenches, tool storage, and any other features to suit your needs.