On-Site Storage Solutions, Inc. provides all types of shipping containers ranging from the most popular dry van shipping containers to refrigerated shipping containers to a variety of specialty containers.The numerous types of shipping containers provide secure portable storage with a variety of unique characteristics.This guide will help you to choose the right shipping container by type, size, and condition that will best suit your needs.
1. Types Of Shipping Container
How To Choose The Right Shipping Container Through Type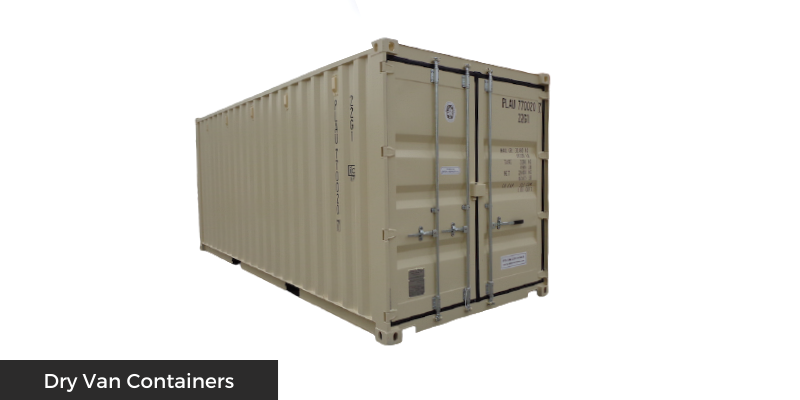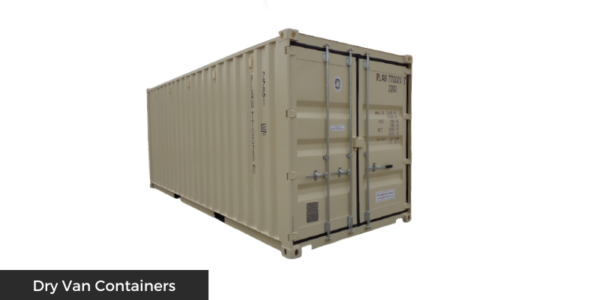 1.  Dry Van Shipping Containers – These steel shipping containers are also called standard storage containers, cargo containers, general-purpose containers, conex boxes and intermodal shipping containers.These standard containers provide secure and durable storage for dry goods and equipment.They are constructed of 14 gauge Corten steel, which is a high carbon rust-inhibiting steel and 1 1/8″ marine-grade plywood flooring. The two most common ocean shipping container sizes are 20′ and 40′ in length.The 40'Dry Van (DV) container is the standard height of 8'6″ tall.If you require more interior space, the 40'High Cube (HC) option at 9'6″ tall gives you a foot more in height for a more room-like feel, which is why this is a great option if using the container as a workspace.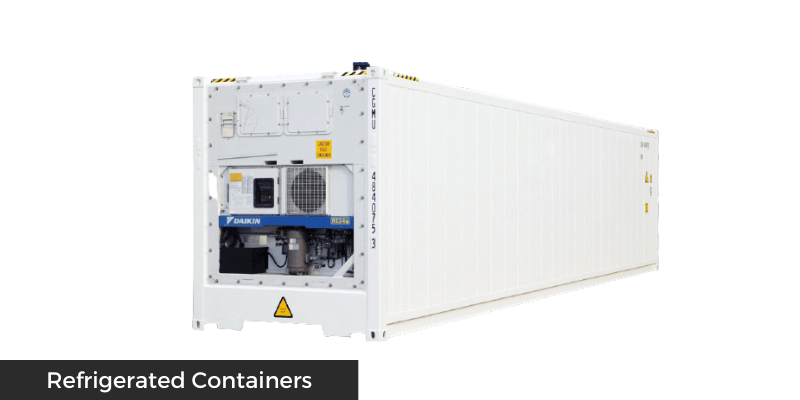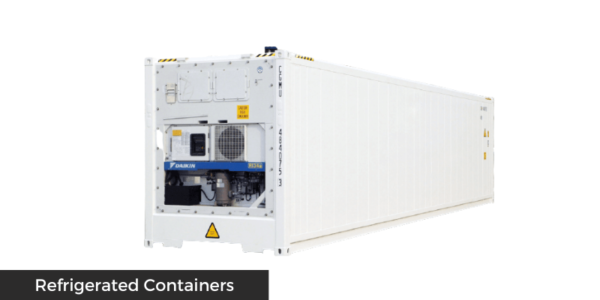 2. Refrigerated Shipping Containers – These temperature-controlled shipping containers are also known as reefers. They have a stainless steel interior and exterior with an aluminum T floor and R30 insulation. They are used to transport and store perishable goods that require temperature control. Each reefer has its own refrigeration equipment that is integrated into the bulkhead end of the container opposite the double doors. Refrigerated shipping containers have a temperature range of -15°F to 65°F. The aluminum T floors are grooved to allow cold air to flow under boxes, and they have drains to make cleaning the interior quick and easy. A "non-working" unit, or a refrigerated container without the working machinery, can also serve as an insulated unit and is ideal for storing heat or cold-sensitive items and materials.
Power Requirements:
Working refrigerated units run at 50-60 Hz and require three-phase power supply that's suitable for 440/460 volts. If the Reefer site does not have the required voltage, we can provide transformers for an additional cost that can increase the 3-phase power voltage from 220/240 volts to 440/460 volts. Keep in mind that customers are responsible for grounding the power supply and providing a circuit breaker of 30 amp prior to use.
Aside from the most common types of shipping containers such as standard and refrigerated containers, there are "specialty" containers for various uses: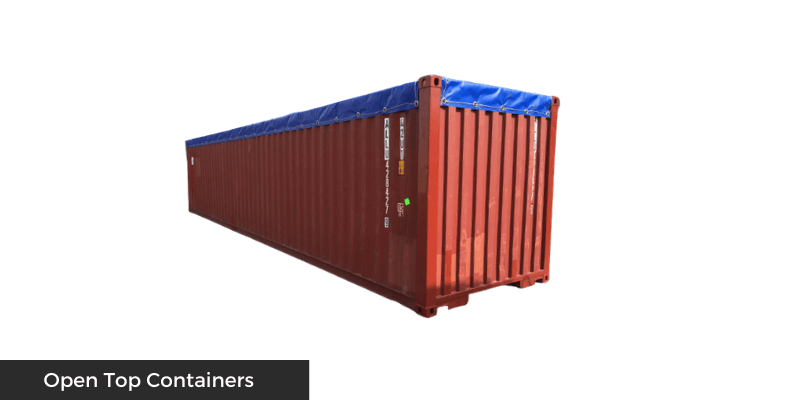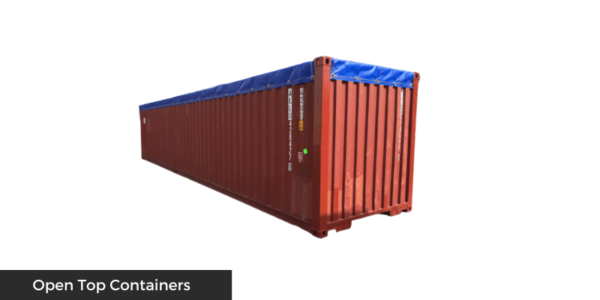 3. Open Top Containers:As the name implies, open tops have an open-top that allows large cargo,such as  generators, to be more easily loaded and unloaded. Open tops are very similar to normal dry van containers, except they have no roof, and there is additional structural support. Open top containers have either a tarp or metal hardtop to cover the containers open top.The majority of tarps are made with blue or gray tarpaulin material.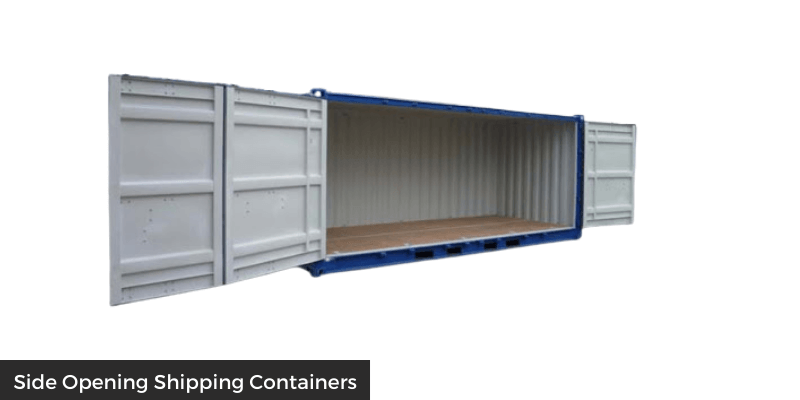 4. Side-Opening Containers: Depending on the exact model, one or both of the container's long sides have doors that open up wide to expose the interior of the container for easy access.These containers will also have at least one set of double doors at one end and sometimes both ends.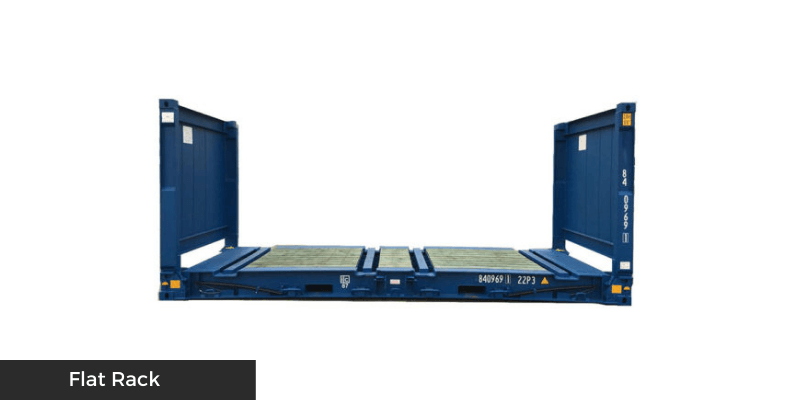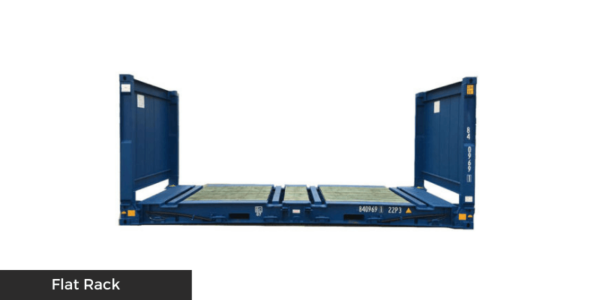 5. Flat-Rack Containers: Flat rack containers have either fixed or collapsible ends. This type of specialty container is a platform container with a highly reinforced bottom. The lack of sides and top make it easier to load and unload large bulky cargo.
2. Sizes Of Shipping Containers
How to Choose The Right Container Through Size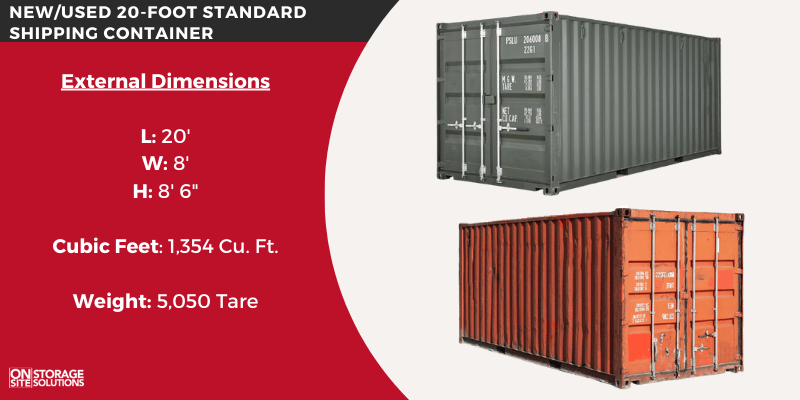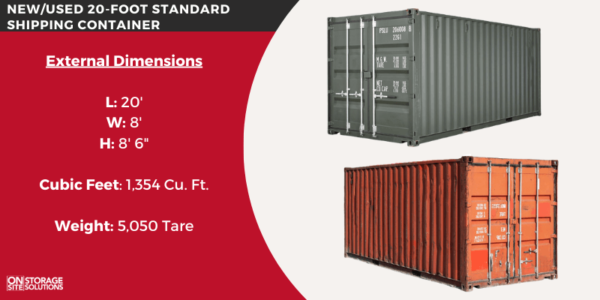 1. 20-Foot Shipping Container – The term TEU Twenty-Foot Equivalent Unit is used to specify a ship's cargo-carrying capacity, and it is a very common size.  If you don't have the space to fit a 40' container, this is a good option. If delivered on a smaller truck, a 20′ DV container only requires 80 foot straight length space for drop-off. A 20-Foot cargo container has enough room to store furniture and items for a two-bedroom apartment and is roomy enough to double as an office container, an event space, or even a trendy mobile cafe shop.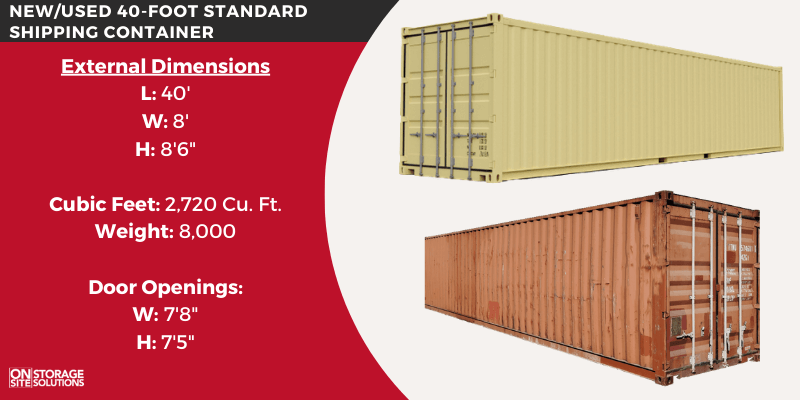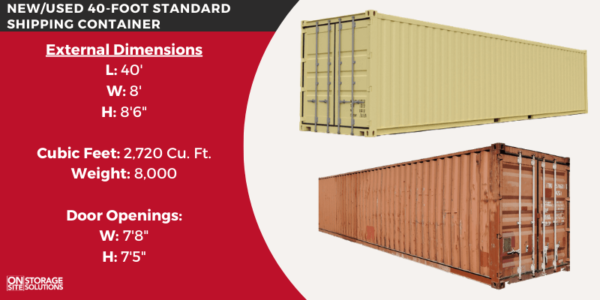 2. 40-Foot Shipping Container – If you have enough space, then a 40′ container is typically a much better value than the smaller 20′ container because you get twice the space for just about the same price. It has enough room to store furniture and items from a 3-4 bedroom home and keeps your belongings safe and dry. Before you commit to this 40′ container, be sure you have enough space for delivery. This big boy requires about 110′ feet straight in length to deliver.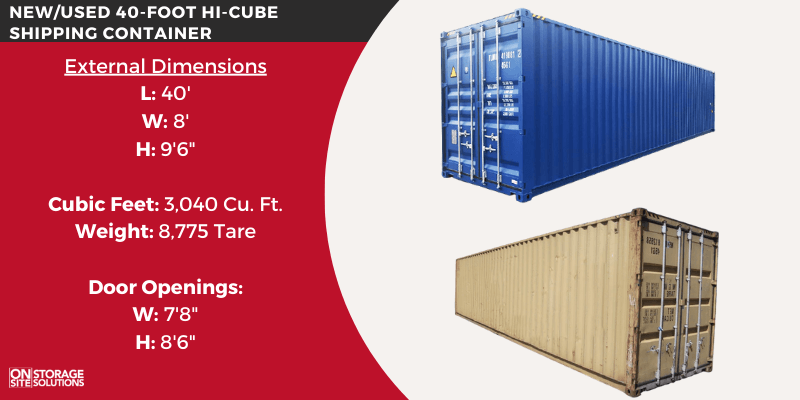 3. Hi-Cube Container – The most popular size of container is the 40' High Cube container. The high cube container has the same lengths and width as a 40′ standard container. The difference is the height which is one foot taller, so it stands at 9 feet 6 inches high. So, If you are converting the container into a tiny home or workspace, the higher ceiling allows ample space for walking around comfortably even after installing insulation and wiring. 
10-foot storage containers are available in limited locations. Keep in mind that 10′ DV containers are not a standard size and are usually larger containers that have been cut down and modified to size, so there is typically no cost savings. We do carry new 10′ containers in some locations. Call us at (888) 405-8772 to check for a 10′ shipping container near you.
3. Conditions Of Shipping Containers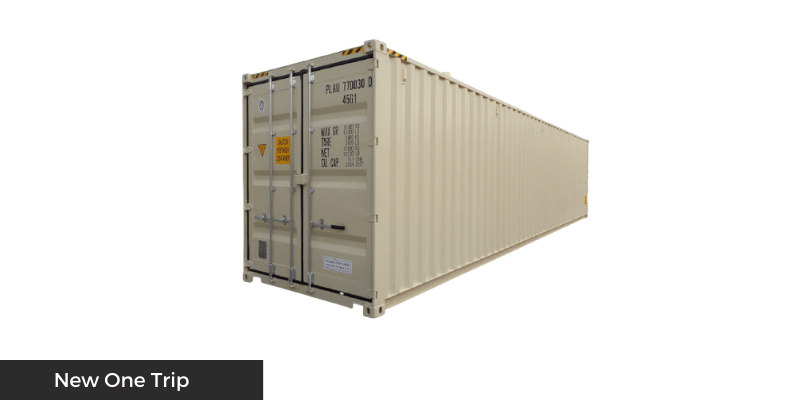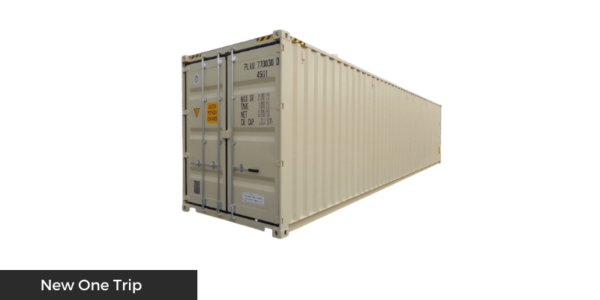 1. New One Trip Containers – One Trip containers are the newest containers we sell. These containers have been used only once to ship cargo from Asia to the US, which helps offset the cost of the container. These containers are typically beige or gray in color and have no shipping line-markings. Although they may have minor dings and dents from being handled with large equipment, they are generally in excellent condition and will last many years if properly maintained.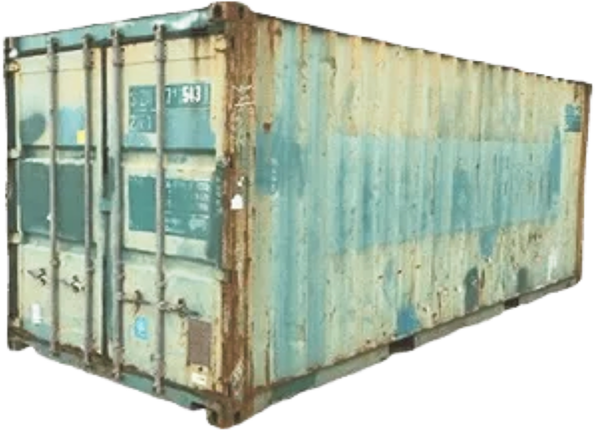 2. Used Containers – Used containers are the preferred condition since they provide the most affordable option. These containers are about 15 years old, they will have some dings, dents, and surface rust but are structurally sound and will keep your belongings safe and dry.  Due to the typical wear and tear of used containers, if you are at all concerned about its appearance or if you are planning to store extra heavy loads or use forklifts inside the container you may want to consider upgrading to a Wind and Water tight or One Trip container.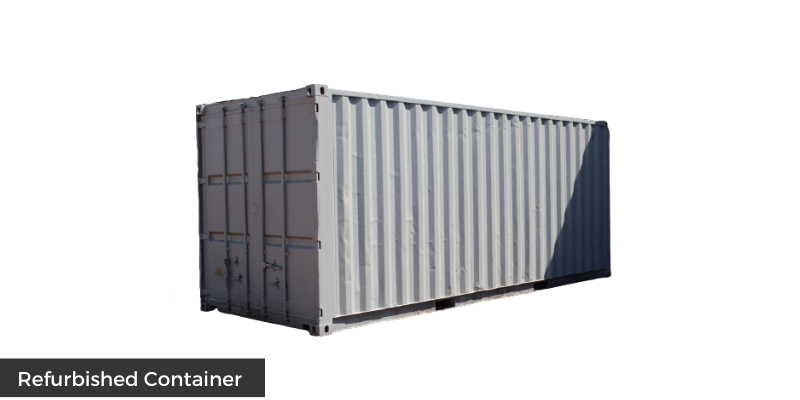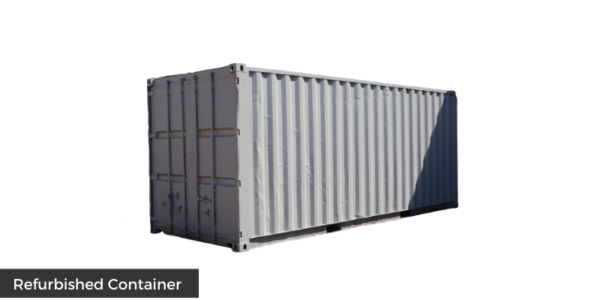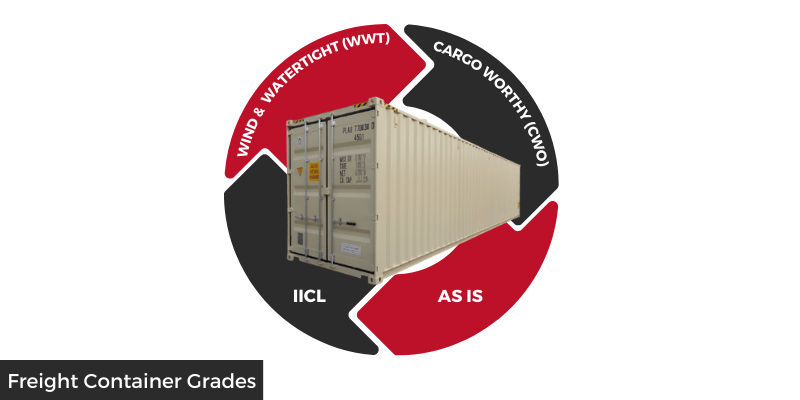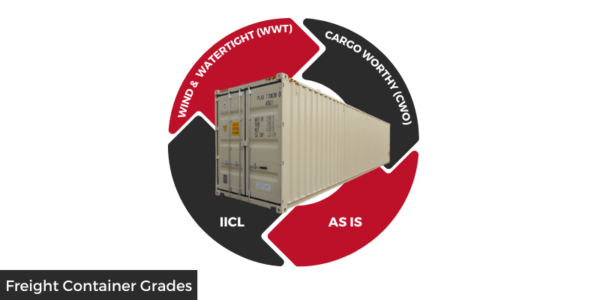 4. Grades Of shipping Container
The fourth and final decision to be made is to determine the grade of your future shipping container. Understanding each one of them will help you in choosing the right shipping container for your business/personal plan.
Before shipping containers are categorized they are inspected by age, structural soundness, exterior, interior, damage, and repair history are taken into consideration when grading a container. Shipping containers are graded as follows:
IICL (IICL-6) –  IICL containers meet the requirements set by the Institute of International Container Lessors (IICL) and are highly recommended for long-term exporting.

Cargo Worthy (CW) – Cargo Worthy shipping containers are used containers considered structurally sound and safe for international transport by sea, rail, and road.The floors are sturdy enough to handle heavy loads and forklifts.

Wind and Water Tight (WWT) –  WWT Containers are used containers that are guaranteed not to leak and are still viable for export. WWT containers have some surface rust, dents, and abrasions due to heavy-duty shipping service. The floors may have some soft spots not suitable for extra heavy loads and forklift traffic.

As-Is – These containers have been inspected and found to be severely damaged and are considered too expensive to repair to make them suitable for transport. 'As-Is' containers tend to have external and internal damages such as holes, broken flooring, and other structural issues. 
After reading this guide, you have all the essential information to make the best decision for choosing the right shipping container. If you have any additional questions, feel free to contact us at (888) 405-8772 or get a quote!
FREQUENTLY ASKED QUESTIONS